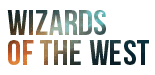 Hey everyone! My next review is for
Wizards of the West
. Wizards of the West is a great clothing company that has a variety of apparel and accessories for women.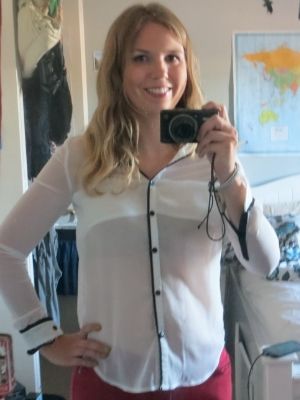 I was sent their
Chiffon Blouse
.
I really like this blouse, it's lightweight and sheer, but you can put a nude bra underneath and it still would look acceptable out, not too sleezy or anything. I like the overlap across the breast area so it look like a white border.
It was little shorter than I expected and tight though, I got a medium I should have gotten a large. The arms were really tight and I couldn't button the cuffs. The stomach area was loose but the arms are just super tight. I guess my arms are a little toned but nothing crazy. So it's a cute shirt, but I may wear it over a tank or something just because the arms are little uncomfortable.
It is nice and airy though, perfect for the summer coming up, plus the because it is black and white you can wear it with practically anything. Dress it up with some nice black pants or a mini skirt and heels or wear it with some shorts or jeans.
They also sent me this bracelet as a cool added bonus. I really like it and I like that it matches the chiffon shirt. Plus it's easy to slip on and off and the black and white pattern matches pretty much everything. I am not big into bracelets but I've been slowly trying to get myself into them and I think this one is perfect to start wearing with all outfits.
Overall, I really enjoyed Wizards of the West. They have such a great assortment of blouses, skirts, and more. I also really liked the shirt and bracelet. They also have a great program where you can earn rewards from purchases and get bonus points from instagramming your outfit or sharing it on facebook, twitter, and other social media outlets. Definitely check them out.
Buy It!
Head on over to
Wizards of the West's website
and browse their awesome selection. Star Impulse readers get $15 off their order! Simply register for an account on Wizards of the West and leave a comment below telling me you did so with your name and email, and I will pass your info over to Wizards of the West so you can get the discount!