Hey everyone! My next review is for
Anne Taintor
. Anne Taintor is a great company that has been around since 1985 and has a variety of fun products with a vintage feel for women of all ages.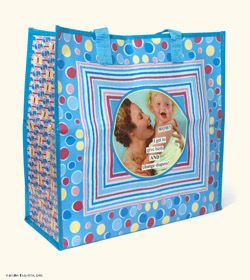 I received one of their shopping bags. I originally requested one of their coin purses but they sent me this instead.
The shopper says:
Wow! I get to give birth and change diapers!
As their website says:
"Save the planet while bringing home the bacon (or tofu) in our Earth-friendly Shoppers. Strong, reusable, water resistant Shoppers feature interior pocket, nylon shoulder straps, and matching piping. 15 3/4" x 15 1/2"h with 6 3/4" gusset."
The bag is super sturdy and awesome. You can fold it up, keep it in your trunk and use it for groceries, that's what I do. It is really thick holds so many heavy groceries. I have used reusable bags before that look sturdy and awesome but don't last long at all. This definitely does. I put tons of grocery items from Costco in it and it held up hardcore.
I also really like the pouch inside too because you can put your money or grocery list in it and it is easy access to it. It's definitely a unique quality that makes it better than your average reusable bag.
Overall I was really impressed with this bag. Definitely check out Anne Taintor too because they have a variety of great products from cell phone cases to flasks to notepads. They all have the vintage women designs on them too. Pretty cool.
Buy It!
Head on over to
Anne Taintor's website
and browse their awesome selection!
Win It!
ONE winner will win a reusable bag (like the one above) and coin purse from Anne Taintor!
a Rafflecopter giveaway