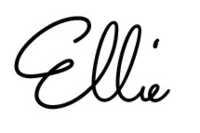 Hey everyone! My next review is for
Ellie Activewear
. Ellie Activewear is a great company that has a variety of seriously awesome fitness clothes for women.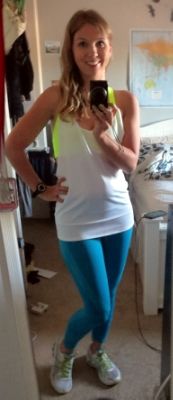 I was sent their
Venus Tank Top
and
Electric Love Capris
and seriously look how cool they are! I apologize for the silly myspace-esque photos but my roommate is away and I was too excited to review these to wait for someone to take a picture of me. Also, ignore my crazy sunburn in the back, but look at how awesome the back is!
First of all, these are both so comfortable. Sometimes you get leggings that are too tight or too small and slide down your butt. You can also get some that are too loose and look like in the middle between sweat pants and leggings, but these are perfect and look freaking awesome.
I usually wear a lot of black workout clothes or just black leggings and a t-shirt because I'm too cheap to splurge on nice workout clothes. But every time I see a girl with some killer like tye-dye leggings or ones with unique prints and colors I get a little jealous because their leggings are so cool and wish I could splurge on some fancy activewear. Now I'll be the belle of the ball...or well...gym with these babies.
The electric blue really does pop and, like I said they are so comfortable. And the top is equally awesome. I'm usually not a fan of white tops but I saw this outfit on Ellie and had to get it. I am loving the whole trend with tanks that are cut on the side so you have to wear a bandeau and to make that trend but for workout wear, I had to hop on board. It actually has the neon yellow bra built in and the white top is loosely over it. I'm not a huge fan of tight fitting workout tops, which is why I mainly wear t-shirts, so this top is perfect for me. It's also so comfortable and at the bottom it tightens a little so it's not super loose to wear to you're almost wearing a cape and have to move it to work out. It's just the perfect, eye catching top.
I love this outfit because it's so unique, definitely makes a great fashion statement for activewear but still is comfortable. Another reason I love this outfit: it matches my sneakers! Like perfectly! I know that's a cheesy reason but it's the little things that count.
Overall, I was super impressed with Ellie, definitely check them out if you need to spice up your gym wardrobe. You won't be disappointed!
Buy It!
Head on over to
Ellie Activewear's website
and browse their awesome selection. Be sure to click on
this link
and you get 20% off your order!