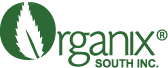 Hey everyone! My next review is for
Organix South
. Organix South is a great company that sells a variety of body, hair, and even pet care products. I was able to review a few products from their Naked Organix line.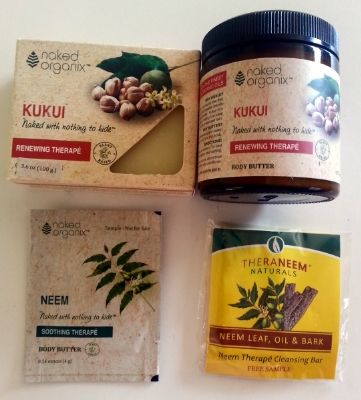 The products I received are:
Kukui Body Butter
Kukui Cleansing Bar

As samples of:
TheraNeem Body Butter
TheraNeem Cleansing Bar

Naked Organix™ offers concentrated plant-based formulas to protect, repair and moisturize face and body. Naked Organix bodycare line is hand-crafted and contains only the finest quality organic, wild-crafted and sustainably-harvested ingredients. They are Paraben free, SLS free, gluten free, petrochemical free, phthalate free & fragrance free for those looking for pure, unadulterated botanical formulas.
I really enjoyed the cleansing bar to replace my regular soap in the shower. I like that it didn't melt away, it's a thick bar and lasts so long. Sometimes when you get bars well they disintegrate, you know? Not this guy. Also it really nourished my skin, didn't leave it dry or ashy. Yesterday I went bike riding and got heavily sun burned, so this bar actually really did soothe the burn a little as the Kukui oil is idea to nourish both dry and sun exposed skin. Kukui oil is also rich in antioxidants and essential fatty acids as well as Vitamins A, E, C and alpha-lineolic acid.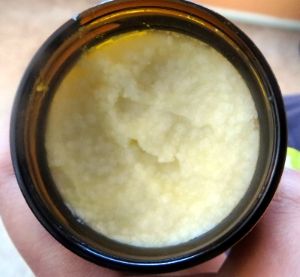 As for the body butter, I really enjoyed that as well. It was thick though and you really had to use your elbow grease to rub it in. As you can see it has little bumps in it and you really had to massage that into your skin to make them disappear. I preferred putting this on in the shower after showering. It's easier to put on when you're still a little damp. Also some of the little bump things may crumble off so in the shower you can just rinse them down the drain. I never used body butter before and have heard mixed things overall just with body butters in general but I really liked this. It is intense and really moisturizes your skin and repairs it if it is dry. It's also great for sun exposed skin. I was worried I'd be too sticky but it doesn't make your skin stick to your clothes or anything. You just feel nice and nourished.
Overall, I really enjoyed their products. I loved how it didn't dry out my skin or irritate it but did the opposite and repaired it and took care of it. Definitely check them out you won't be disappointed!
Buy It!
Head on over to
Organix South's website
and browse their selection. Check out their line of TheraNeem products, too as it is the world's leading line of certified organic Neem based products.