Hey everyone! My next review is for
Snails Safe Nail Polish
. Snails nail polish is the first French-made chemical-free kids nail polish that is easy to put on and even easier to put off -- just wash it off!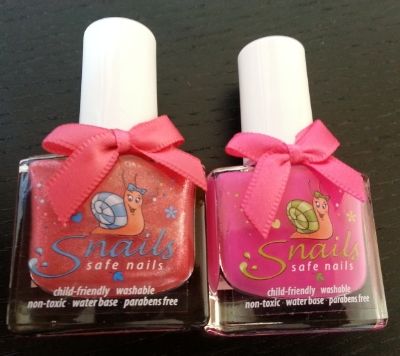 Some awesome perks of the Snails polish is:
-
Revolutionary three-ingredient formula
— containing just water, acrylic polymer and non-toxic colorants, SNAILS is safe in its simplicity.
-
Totally water soluble
— SNAILS washes off easily with simple soap and water, making harsh solvent-based remover a thing of the past.
-
Environmentally friendly
— from biodegradable packaging and lead-free bottles, to a strict no animal testing policy.
-
Hypoallergenic
— SNAILS is purely chemical, Paraben and toxin free, so little nails are kept safe, sound and splendidly coloured.
-
Vivacious colour choices
— every SNAILS polish delivers glorious high-quality gloss and deliciously gentle fragrance.
While I wasn't a huge fan of the two colors I received I thought the concept of the polishes was awesome. Little girls love painting their nails and doing girly stuff but nail polishes aren't the safest. That's where these come in. One thing I noticed though was that it took a while for the polishes to dry but other than that the polishes really worked.
The color payoff is really great, too, it isn't watery or too thin but it looks just like regular nail polish. Literally the only difference is you can wash it off with water, it's pretty cool. Great for little kids but also great when you're in a rush and just need to polish it for like a day. Pretty awesome!
Overall I was really impressed with the polishes. I actually ended up giving them to my younger cousin because she loves pink and she's basically the perfect girl for the polishes. Definitely check them out, you won't be disappointed!
Buy It!
Head on over to
Snails' website
where you can purchase them online or see where they sell them near you.
Win It!
FIVE winners will receive 2 Snail polishes chosen at random and 1 nail buffer!
a Rafflecopter giveaway