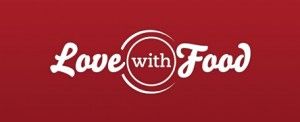 Hey everyone! My next review is for
Love With Food
. Love with Food is a monthly gourmet food service that sends you a box of delicious goodies every month.
The products in the box I received are:
Pur Pomegranate Mint Gum
Roasted Seaweed from Seaweed Love
Coconut and Mango Fruit Ice from Smooze
Gluten-Free Pineapple Coconut Cereal Bar from Do More Bars
Organic Fruity Bears from Surf Sweets
Sweet Plantain Chips from Turbana
Pineapple Bar from SoyJoy
Organic Hard Candy from GoOrganic
Organic Drink Mix from Flavrz
$50 Credit to Naked Wines


I really, really enjoyed this box. But I'll start with the items I was disappointed with or didn't meet my expectations and then get to my favorites.
First off, the $50 Credit to Naked Wines is not what it seems. They have a minimum of 6 wine bottles to purchase and that ends up costing you over $100 so you're still spending money. I was reslly excited because I thought it was free wine, but nope, still had to shell out cash. Needless to say, I won't be using this card.
The gum is...odd. I was really excited to try it but the mixture of two opposing strong flavors like mint and pomegranate kind of make it taste like medicine to me. Eventually the strong taste goes away but that first bite is just...I'm just not into it.
I am not a big fan of gummy things so I gave the Surf Sweetz to my roommate to eat and she enjoyed them. She said they were sweet and fruity and she enjoyed that they were sugar coated. So if you're a gummy person, then you'd probably like them.
I had a few yummy favorites in this box though. The Soyjoy bar is a product I've tried before and tastes so good. It's not a granola bar or a protein bar, it's almost like a baked good bar, a little bit cakey or spongey but so, so delicious. They call it a baked whole soy and fruit bar. It's all natural, made with real fruit, and whole soy. Definitely a perfect snack to stick in your purse or when you're on a roadtrip to munch on in between meals.
The Seaweed was equally delicious. I've been so into seaweed snacks for a while now. Basically they're the perfect snack when you're craving something salty but they're a lot healthier than your go-to bag of chips or pretzels. I usually get them from Costco because there's like 9 for $6 and this tastes similar. If you like seaweed snacks you'll enjoy these.
The Plantain chips were so good too and all they are made of are like 3 ingredients: vegetable oil, plantains, and salt or sugar. Simple and delicious. They were sweet but not crazy sweet and simple hit the spot. They have 30% less fat than potato chips, too. They also contain no preservatives, no gluten, no cholesterol, and are all natural. Yummy!
The Gluten-Free Pineapple Coconut Cereal Bar from Do More Bars was pretty much my favorite thing just because I am obsessed with coconut anything and really enjoy pineapple too and so the flavor tasted perfect. It reminded me of the rice krispy treat bars but packed with tropical flavor. Bars have a buttery taste with less than one teaspoon of butter per bar. No preservatives or artificial colors/flavors. They were amazing.
The other products the fruit ice, the hard candy, and the drink mix were pretty good too. They're the middle guys I enjoyed them, didn't like them but they didn't beat that Pineapple Coconut Cereal Bar. Though the ice was a really great snack for a hot summer day, I'm not a huge fan of mango.
Overall, I really did enjoy this box. I've tried other subscription services before and I'd say this is one of the better, if not my favorite one because there were more items in here that I loved so much and tasted so delicious. Plus there really weren't too many weird ones, sometimes you get a weird energy powder mix or some strange product in a box that honestly you might try but never will buy again. These are products that you can eat normally and taste amazing. Definitely check it out you won't be disappointed!
Buy It!
Head on over to
Love With Food's website
and try a box for only $12 a month or sign up for the monthly service where you get a 12 boxes a year for only $10 a month.