Hey guys! I just wanted to let you know about this awesome new monthly box called Escape Monthly because everyone deserves an escape! They are a bunch awesome destination-inspired luxury products. They're a super new subscription company, the first box starts shipping in August.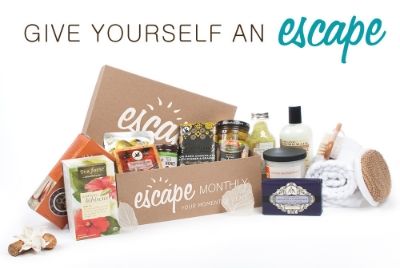 Life is stressful, and it's hard to schedule the time we all need to relax. But what if you got a care package in the mail every month, designed specifically to help you break away? Escape Monthly is a destination-inspired box full of luxury products to help you relax and renew. Every month, they curate high-quality products to help you slip into bliss—from spa & beauty products, to gourmet snacks & gift certificates. We also give a lucky member a vacation to the destination!
Each month's box is packed with:
- Destination Inspired Themes
- Pamper & Indulge with Full-Size Luxury Products
- From Bath, Spa & Beauty...
- ...to Gourmet Snacks & Gift Certificates!
- Travel Guides & Entertainment to Escape Into
I love traveling so I am pretty excited to see what this box has in store. Definitely check it out, I'm sure we won't be disappointed!
Buy It!
Head on over to
Escape Monthly's website
. Joining the club costs $49.95 a month with free shipping but use the coupon
YOURESCAPE
to get 20% off your order!
Win It!
ONE winner will receive a FREE Escape Monthly box valued at $49.95!
a Rafflecopter giveaway