When it comes to jewelry I'm not huge into flashy pieces. I like to keep it simple. I don't wear them that often (aside from my watch which I wear daily) which I regret a lot because I always forget to put on a necklace or rings when I'm planning on it. Though in the summertime I think I wear jewelry the most. It's easy to wear a simple tank and jazz it up a little with a necklace. So when I was given a choice to review a piece of clothing from
Nimli
or some jewelry I took the later.
Nimli
is a great website that has a variety of wonderful items from clothes to jewelry to even home items like candles and bedding. Their products are so lovely and definitely have something for any girl.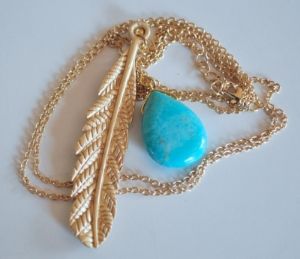 I received their
Turquoise Feathers Necklace
to review and I really, really like it. I think it's just lovely. For some reason, turquoise always reminds me of summer, so I think it's the perfect piece of this time of year.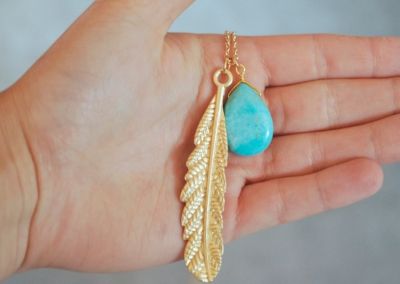 Like I said, I like to keep it simple and I think this necklace is the definition of my taste. Just a simple statement necklace that you can wear with practically anything. The stone and feather look really nice together. Plus I love gold colors with turquoise especially in the summer, I feel like it really makes the stone's color pop.The necklace is also one of the longer necklaces which I like. It's 28 inches long.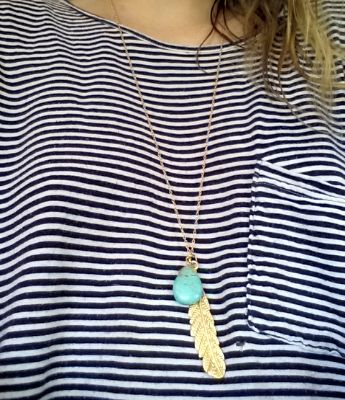 I was also really impressed with the quality of the necklace too. This is not some necklace you'd find at Forever 21 that is for sure. The feather is pretty thick and heavy and the stone is gorgeous, this is definitely something that will last a long time.
Overall, I think it's a lovely, classic piece that even if you're not an expert accessorizer you can definitely find an outfit for this.
Buy It!
Head on over to
Nimli's website
and browse their selection of products, you may be on there a while because everything looks amazing, but you won't be disappointed!
Win It!
ONE winner will receive the Turquoise Feathers Necklace, too!
a Rafflecopter giveaway