I'm a big fan of hand sanitizers. I'm always on the go and touching different papers, money, all that stuff, sometimes you don't have time to stop at a restroom to wash your hands that's when hand sanitizers come in handy!
Simply Clean is a company coming soon to many retailers this fall with many antibacterial items and cool hand sanitizers.
I received their Lady Bug hand sanitizer which is just too cute.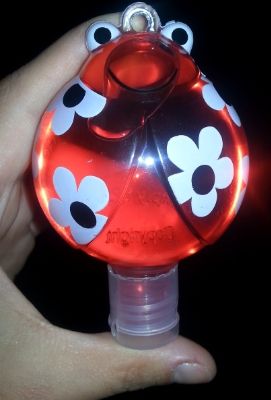 It's 2 oz and smells like candy apple. There's a little hole up top so you can attach it to keychain or string too.
I really liked it especially the smell, I love the smell of apples. Plus it's cute, different from those other portable hand santizers that come in bottles. The liquid is actually red too but when you rub it into your hands it doesn't stain you it just disappears.
The liquid also doesn't dry out your skin it just leaves it feeling clean and smelling like apples.
These hand sanitizers will be hitting all Walgreens in mid-September and come in a variety of little guys like frogs, ducks, owls and more!
Buy It!
Definitely check them out in September when they reach stores, they're only $2 for a 2 oz bottle. Keep a look out for more from Simply Clean too, they plan on coming out with more antibacterial related products like foaming hand soaps, antibacterial lotion, and hand soap.