Breakfast is by far my favorite meal of the day. There is just so many options! You can have sweet or savory, light or heavy, the possibilities are practically endless. I guess it makes sense that IHOP is my favorite restaurant...but I digress, I just love breakfast. I love going out to eat it but I also love making my own. I love the way you can experiment with loads of ideas, too. That's why using
Wholly products
in the morning is almost always essential for me at least when I want something savory. The guacamole and salsas really add a punch of flavor to boring old eggs or toast. it's like the cherry on top of my breakfast sundae -- it's essential.
I received a variety of guacamole and salsa from Eat Wholly. I decided to use them to make my favorite breakfast item to make: a Mexican Scramble.
I actually found this idea from RevAbs when I did a review for them, they listed it as a dish to eat, but I improvised by adding a little more.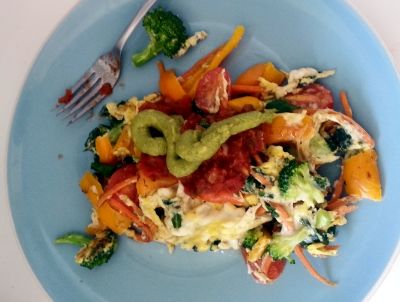 My Mexican Scramble Includes:

- 2 eggs
- 3 or 4 little baby peppers
- A handful of Spinach - 5 cherry tomatoes
- Maybe some broccoli or onions of you have them - 2 tablespoons of guacamole
- 2 tablespoons of salsa
- a sprinkle of hot sauce
Add all the ingredients together in a pan, aside from the guac, salsa, and hot sauce, when the scramble is done add the guac, salsa, and hot sauce. Enjoy!
I love this scramble because I suck at omelettes, they always break for me, so this just scrambles everything up and still tastes as good!
But if you need more ideas for some great breakfast ideas check out this Wholly Kitchen video:
Definitely check out Wholly and their new Wholly Kitchen series for some great recipe ideas and ways to use guacamole and salsa in things like sandwiches and more.
Buy It!
Head on over to
Wholly's website
and click on the
Where to Find Us
tab to see where they're selling it near you. Looks like Walmart and Target sells it near me!
Win It!
ONE winner will receive a Wholly prize pack similar to the one above!
a Rafflecopter giveaway