I'm a big breakfast person. I feel like I've told you guy this already. But it's my favorite meal of the day and the most important. So when
Devo Olive Oil
sent me their August flavors of the month I was pretty excited to make a recipe out of one of them!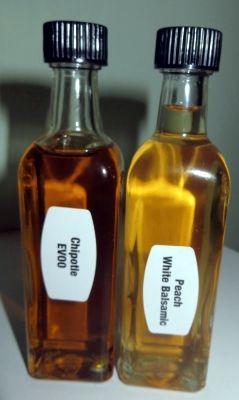 The August flavors of the month are:
Chipotle EVOO
Peach Balsamic Vinegar


Both are such unique flavors and completely different. Sweetish and spicy.
The Peach Balsamic is great to put as a dressing on a salad. What I actually really want to try though is to put it on a piece of salmon, I feel like it'd be great with fish. If I do try that I will definitely let you know.
Instead I took the Chipotle EVOO and made one of my favorite go-to's for breakfast, the
Mexican Scramble
.
You guys probably remember me sharing the recipe of this easy, but delicious breakfast before but what can I say? It's one of my go-to breakfasts. I switch up the ingredients every time, too. But what makes this even better is the surprise kicker -- the chipotle extra virgin olive oil.
Ingredients:
- 1 tablespoon of Chipotle evoo - 2 eggs - 1/4th of a large orange pepper
- 1/4th of a large red pepper
- A handful of Spinach - 3 little florets of broccoli
- 2 tablespoons of guacamole
- 2 tablespoons of salsa
- a sprinkle of hot sauce
Directions:
1. Pour the tablespoon on a pan.
2. Add the eggs and mix them all together until it's all yellow.
3. Pour the other ingredients in.
4. Scramble them for only a few minutes.
5. Add guac and salsa.
6. Eat!
You can also add seasoning like crushed red peppers or garlic powder to the mix but the salsa and spiciness was perfect for me.
The Chipotle EVOO gave it a little more of a spicy kick and made all of the flavors compliment each other. It's definitely my new favorite olive oil. I love spicy and I can see myself just adding more subtle spicy flavors to other awesome meals by just adding this delicious olive oil.
I think these are the two perfect flavors to add to the summer cookouts and family meals you'll be having this August. Devo Olive Oil also mentions that the Chipotle EVOO is great for marinating steaks and brushing on grilled chicken or seafood. While the Peach Balsamic is bursting with fresh summer peach flavor is very versatile, and nearly impossible to keep in stock due to its overwhelming popularity.
Once again, I was not disappointed with Devo, they just keep coming out with the greatest, most unique flavors of balsamic and EVOO it keeps their customers on the edge of their seat to find out what Devo will come up with next.
Definitely check them out you won't be disappointed!
Buy It!
Head on over to
Devo's website
and browse their amazing selection. Also, stumped for ideas? Check out their recipe section, too!