A few weeks back my hair straightener broke, I don't use it often but it broke at the worst timing. I was in Vegas about to go out on the town and boom, it was broken. So I was pretty bummed out. Fortunately,
Flat Iron Experts
came along and saved me! Flat Iron Experts is company that sells a variety of wonderful hair straighteners and related products!
I received their
HxR Tourmaline Ceramic Flat Iron
which is amazing. It's one of their best budget flat irons, best selling flat irons, and I love it.
As their website says:
"H&R Flat iron features a "New Patented Suspended Plate Technology" that prevents pulling of your hair, meaning comfortable and painless styling. H&R Straightener's Tourmaline / Ceramic plates are able to distribute heat across the entire surface evenly, retains heat more efficiently, and eliminates damaging hot spots. Tourmaline and Ceramic plates emits a natural source of negative ions and far infrared heat that helps your hair preserve more moisture within the hair shaft, eliminate frizz and close the cuticle to create smooth and shiny hai, and cause less damage to the hair cuticle during styling."
I really enjoyed Flat Iron Experts because this is a high quality flat iron. My old one I got from Costco, you can pull out the hair straightener part and put on a curler part on (kind of how it broke) and it wasn't a quality straightener. It took a while to get warm and I had to work on my hair a while and my hair is fairly thin, it shouldn't take too long. You don't realize though that you had a crappy straightener until an amazing one comes along and your hair goes from this: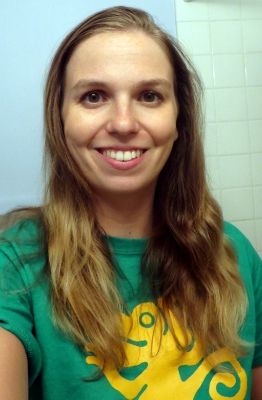 To this:
In like five minutes! Sure my hair isn't that curly or frizzy or anything and it shouldn't take too long to straighten it. But it really used too. This was just so fast and amazing. Plus it didn't burn my hair either but that's also because of the help of this: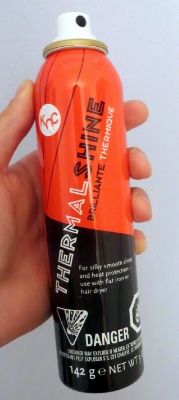 Their
KQC Thermal Shine Spray
which is actually their best heat protector and I can see why! As their website says:
KQC Thermal Shine Spray is an ion enriched polishing complex formulated for superior heat protection and ultra gloss hair shine. Lightweight, non-greasy micro mist spray that eliminates frizz, softens and polishes hair without build up. Designed for all hair types. Use with flat iron, curling iron or hair dryers.
The spray didn't leave my hair too oily or gross and it helped not burn my hair I loved it!
Something I wasn't a huge fan of that they sent me, but I thought the intentions were really awesome and such a great idea was this: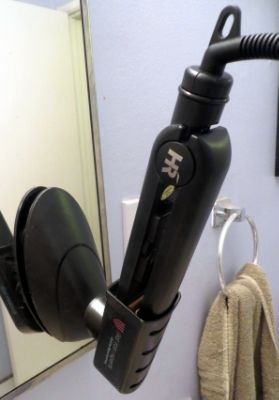 This was their
Flat Iron Experts Iron Holder
. It is such a great idea! But my bathroom isn't made of ceramic and it won't stay on the wall. I tried it on the mirror but it actually feel off, fortunately the flat iron was not in it at the time. Overall though great idea, but just didn't work for me.
Overall, I was very happy with Flat Iron Experts. I was very impressed with the quality of the hair straightener and how effective it was as well as their Thermashine spray. Definitely check them out, they're so great!
Buy It!
Head on over to
Flat Iron Experts' website
and browse their selection. They're also very helpful because they have the "Top 3 Guides" for all of their products from flat irons to shampoo so even if you're a newbie or don't know they're experts and they're gonna help you out.