You guys know me, I'm always up for trying new products. Especially unique products I've never even heard of before. That is why when I received the opportunity to review the
Purex's Fels-Naptha Laundry Bar
I took it!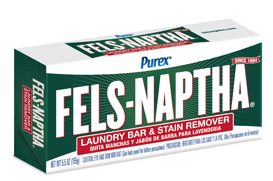 This laundry bar works overtime to remove your toughest stains. Whether it is dirt, grease, or ring-around-the-collar, a bar of Fels-Naptha can clean up the mess!
You can use this bar in a variety of ways. One is just wet the stain on your shirt and then rub it with this bar, wait a minute, then wash as normal. Or if you want it to boost your laundry, grate 1/16th of it into the washer with detergent and wash as normal.
Honestly, it smells and looks like the old soap bars my grandpa uses, just bigger. I actually wonder if they're the same but considering this is an eye and skin irritant, probably not. But man it does clean! I mean the bar has been around since 1894 so clearly it does work and has for quite some time.
It's more effective than those stain sprays. You're rubbing the bar into the stain and thus removing the stain. I used it for the stain control instead of the laundry booster just because I don't have a grater and, well I guess I'm a messy person sometimes. I had some paint stains from babysitting, not from her painting but me. Also whenever I eat ice cream or pasta I turn into a child because it gets everywhere. So I had some shirts like that, too, but fortunately this stuff is amazing and got them out! I really want to try it with chocolate or some big nasty stain, though honestly, I'm sure it will get that stain out too!
Overall, I was really impressed with this bar, it really does work! Definitely check out you won't be disappointed!
Buy It!
Head on over to
Purex's website
where you can buy a bar yourself!
Win It!
THREE winners will receive a free product coupon for a Fels-Naptha bar!
a Rafflecopter giveaway