I can't believe it's already September and fall is practically here. You know what that means, cooler weather and Halloween. One of those is a thing I love, the other…not so much. Take a guess which one.
Just kidding, cool weather isn't too bad. Fall in general does have some other pretty cool things too aside from Halloween, like pumpkin flavored everything and the fashion. I love sweater weather and fall accessories including scarves, which is why I was pretty excited when FRAAS contacted me to review one of their newest scarves.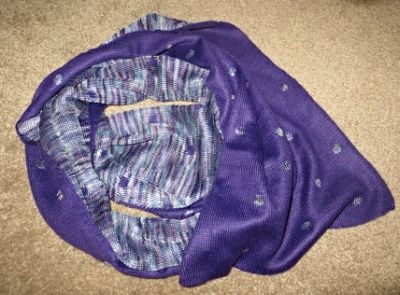 Their newest scarf line is 060607, it is an ideal style to celebrate the fall season. It reverses so that two distinctive looks are possible and comes in four flattering shades: petrol which is a teal/green color, dark red, purple, and black. It is a super soft mix of viscose and acrylic. It is also 14 x 72 inches big.
I received their scarf in purple and I really love it. I know it looks more blue than purple but it's a kind of indigo, purple color and really lovely. As you can see, the main theme of the scarf is polka dots. One side is solid with multi-colored (but still in shades of purple) polka dots and on the opposite side it's multi-colored with solid polka dots. I'm not a huge fan of polka dots but the multi-colored side is really eye-catching. The colors are bright and so pretty but still goes well with practically anything. Also, the fabric is really soft and not itchy like some scarves can be.
Overall, I really did like this scarf, it is very lovely. I can definitely wear it in the winter, too. Also, if you're looking for a simple gift for someone this would be perfect. Definitely check them out!
Buy It!
These scarves retail for $40 and you can purchase them via phone by calling 212-575-0191 or check out
amazon.com
!