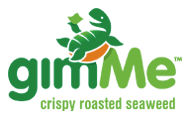 Hey everyone! Sorry for the lack of the reviews, if you follow Star Impulse on facebook i posted saying I went home for a little vacay and a wedding but I'm back in action and ready to share with you some awesome reviews!
Some background on GimMe Snacks I thought was fun to find out is that the name came from the Korean term for crispy seaweed is known as "gim" so they figured they would call their snacks GimMe because it's so good everyone wants more!"
First up is this great and yummy snack company called
GimMe Snacks
. GimMe Snacks has a crazy delicious line of seaweed snacks that are amazing. Now I don't know about you guys but this past year I became addicted to seaweed snacks. They're the perfect snack when you have a crispy or salty craving because they're light calories and wallet, too!

GimMe Snacks sent me the following flavors:
Sea Salt
Sesame
Honey Dijon Crumbles
Cheddar Cheese Crumbles


The sea salt and sesame are your typical sized roasted seaweed snacks. They're little square bites that practically fit perfectly in your mouth and are thin, crispy, and delicious. They're pretty addictive, too. Fortunately, you can inhale these snacks guilt free because they're only 25 calories per serving bag. They're also certified organic, gluten free, vegan, and contain no GMO's.
The crumbles were really delicious, too. I wasn't a huge fan of the honey dijon flavor because I'm not a big mustard fan but the cheddar cheese was so great. I would have never thought of combining the seaweed snack with cheddar cheese and how wonderfully they complimented each other. The crumbles are the roasted seaweed snacks just crumbled up. Perfect for a snack on the go or a side snack with lunch. These are only 100 calories per bag, too and are bursting with flavor. They're also natural and gluten free.
Seaweed in general is also very good for you, it contains 10-20 times the mineral concentration of land plants plus protein and fiber. It is also an excellent source of iodine, vitamin K, and a good source of folate, magnesium, iron, and calcium.
Overall, I loved GimMe Snacks. I actually had them shipped to NJ so I could munch on them in the plane on my journey back to the west coast. It was a nice little sample session I had rocking in my airplane seat and well worth it. I loved how they have a little kick to them. They're not your average seaweed snacks. I especially loved the cheddar cheese crumbles because they were just too good and I love cheese anything.
Definitely check them out! Whether you love seaweed snacks or have been meaning to try them out, try them, you won't be disappointed!
Buy It!
Head on over to
GimMe Health's website
and browse their selection! Also you can find the roasted seaweed snacks at Whole Foods and the crumbles at Walmart!