I really love unique gifts especially ones that are personal and have great memories and meanings behind it. Basically any gifts that involve pictures are a complete win for me and that is why I really loved
Pic the Gift
. Pic the Gift is a great website that has a variety of gifts where you add pictures to them and make them even more wonderful. From cell phone cases to puzzles to even cuff bracelets they have almost anything for everyone!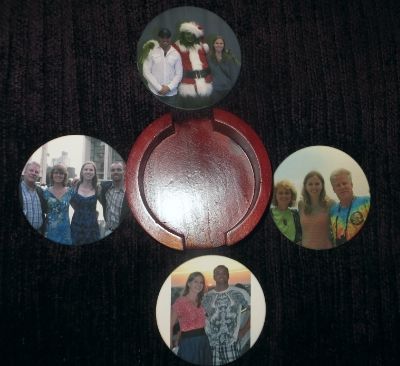 I chose their
Custom Sandstone Coaster Cork Back Set - Round and Includes Mahogany Holder
.
I actually got this coaster set because my mom mentioned it once that it would be really nice to have picture coasters. We were at my uncle's house and he had them and she really liked them so when I saw Pic the Gift had them I hopped at the chance. I haven't given them to my mom yet, I'm still in NJ now visiting and I plan on giving it to both of my parents at a like last evening dinner where I'll pay for dinner and give them the coasters. It's also part of a super duper late birthday present I'm giving the both of them. I have a feeling though they will be pretty happy with them.
The coasters are a set of four coasters made from absorbent natural sandstone with a cork back and also comes with a beautiful mahogany coaster stand.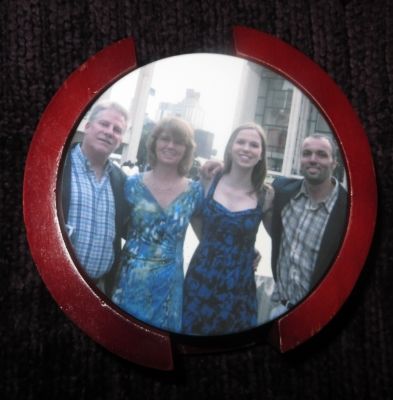 I was disappointed with the coloration of this photo above, I feel like it's not as bright as the photo. Maybe it was because of the stone? Not sure but the other coasters looked awesome. Plus it's not like it's ironed on it looks like the pictures won't rub off from wear that easily or at all.
Overall, I really liked these coasters aside from the color of that one certain coaster. My mom saw these plastic coasters with photos slipped inside so she is gonna be pretty pumped to see these legit solid stone coasters. They're the perfect gift even if you don't know what to give that person just go through Facebook, pick some awesome photos, and bam. You can make a great coaster set for your parents or a keepsake box for your grandma. Even a small keychain for your friend if you need one more little gift for them for their birthday or something. People love personal gifts especially ones with pictures. Definitely check out Pic the Gift you won't be disappointed!
Buy It!
Head on over to
Pic the Gift's website
and browse their awesome selection!