Hey guys! If you have been following this blog for a bit you should already know how much I love using Purex products and writing reviews and giveaways for them on Star Impulse. They have an awesome new product out called
Purex UltraPacks plus Oxi
and I had the chance to try them out. They are so awesome!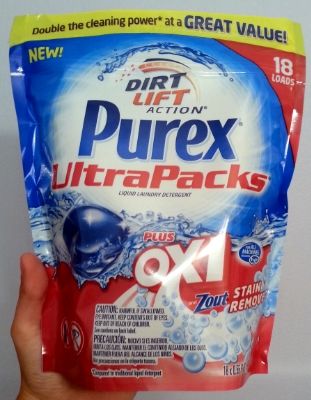 You may remember I reviewed their original UltraPacks a bit back and you can check that review out
here
. These are similar but with an Oxi boost.
UltraPacks are detergent capsules that you can easily toss into your laundry without measuring. They're great for traveling but also keep in mind their capsule is very thin, almost like plastic wrap so it can break very easily so be careful! They're also great when you're feeling lazy doing laundry and don't feel like measuring but just tossing in a capsule. Also if you go to Laundromats or if your washer/dryer Is far away like down the stairs or something these are awesome instead of lugging your giant jug of detergent.
Also, keep in mind just because they're already packaged in capsules doesn't mean they aren't as strong as liquid detergents. The Purex UltraPacks plus Oxi formula is so powerful it works to fight over 101 of your toughest stains! The concentrated Dirt Lift Action formula has 2 times the cleaning power in every drop, leaving your clothes so bright, white and clean. It also contains Zout stain remover to make it even stronger to kick your tough stain's butt! Well, if stains had butts, haha.
Whether you're a mom with a messy kid, or are like me, and are just messy yourself, Purex works! I tried these UltraPacks plus Oxi yesterday on laundry day and they made all of my clothes so bright and clean. It was just awesome.
They also have an awesome sweepstakes going on where you find the red football jersey hidden somewhere on Purex.com and WIN $50! 10 Winners! Hint: Just toss and go! For more information on the sweepstakes and enter to for a chance to win
here!
Once again, Purex lives up to its name and gave me incredible results. Definitely check them out and you won't be disappointed!
Buy It!
Head on over to Purex's website and browse their softeners and other great products!
Win It!
THREE winners will receive one free product coupon for Purex plus Oxi Ultrapacks!
a Rafflecopter giveaway