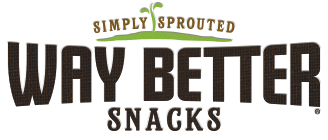 There's good and bad things about chips: The good is that they taste really, really good. The bad is, well, they're usually not good for you. Fortunately, you can find some healthy alternative chips but sometimes they don't taste as good as the regular, bad ones. But then you find something better, way better, literally!
Way Better
has a line of tortilla chips that definitely live up to their name. They have a delicious assortment that are just too good!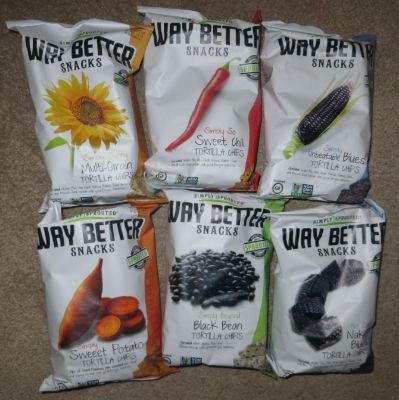 I received the following varieties of chips:
Simply So Sweet Chili
No Salt Naked Blue
Simply Beyond Black Bean
Simply Unbeatable Blues
Simply Sweet Potato
Simply Sunny Multi-Grain
Seriously, these chips are amazing. I love variety in my chips and trying new, unique flavors. That's why I jumped on the sweet chili first and let me tell you the bag definitely did not last. It was pretty much gone in less than two days and it was just me eating them. But they were addictive! They were spicy but not crazy hot, like Doritios without the cheese flavor and overall artificial gross flavor. So I guess not like Doritios, like…BETTER than Doritios, haha. They went perfect with this new roasted red pepper hummus (yummus as I call it), seriously I practically just ate that for dinner last night. They were the first bag I opened and ended up being one of my favorites.
I say "one of" because you really can't just pick one flavor, they're all so good! I really loved the sweet potato chips too becaue I love sweet potato anything. I know they're tortilla chips and they're meant for dipping but I ate these guys solo and nearly just as fast as the previous bag. The black bean chips were also really great. I ate them with salsa and guac and the black bean kick complimented them wonderfully.
Basically all of the flavors were just so delicious and also they're way better than your average tortilla chip . Their chips carry a surprising amount of nutritional value due to the nutrient-dense grains and seeds they use. They're also germinated which makes the vitamins and minerals more bio-available to the body. Also, because they are sprouted there is increased vitamins and minerals more bio-available to the body. They also use sprouted ingredients and because of this there is increased vitamins and minerals, increased digestibility, and increased nutrient absorption.
I know you're probably thinking "what is sprouting?" Well basically when whole grains, beans, and seeds are fully grown they are difficult to digest and their nutrients are poorly absorbed. Every seed, grain, and bean has natural enzyme inhibitors and barriers which are designed specifically to interfere with digestion and absorption. But when the sprouts are still growing the natural enzyme inhibitors aren't present yet. Sprouting biologically activates the seed. The plant proteins, essential fatty acids, starches, and vitamins are bioavailable for human digestion. Pretty cool right? And after all of this you end up with a crazy delicious snack. Some other great added benefits is that they're gluten-free and contain no GMO's.
Overall, I was super impressed with Way Better, their chips are amazing. Definitely check them out if you love tortilla chips like me and want to switch it up by trying a healthier alternative that's still delicious!
Buy It!
Head on over to
Way Better's website
and browse their awesome selection!
Win It!
ONE winner will win all six Way Better tortilla chips just like the ones above!
a Rafflecopter giveaway