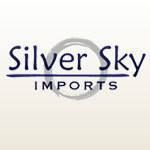 I always like finding new items for all occasions. From food to clothing but even unique items that you can't buy at a local store. That's why I was really interested in reviewing a bowl from
Silver Sky Imports
. Silver Sky Imports is a unique online marketplace that offers hand made goods from Tibet, India, Nepal, and throughout Asia. Started in 2003, Silver Sky Imports is currently the largest supplier of handmade items from the Himalayas. Supplying both wholesale and retail around the globe.
I was sent one of their beautiful
Tibetan Singing Bowls
along with a singing bowl striking tool and large bowl cushion with the "om" symbol.
A little info about these bowls, singing bowls were brought to Tibet from India along with the teachings of Lord Buddha. Most people use these bowls for Buddhist spiritual meditation or to create a great art or conversation piece. Hand made in a wonderful combination of 7 different metals which create 7 different distinct tones. According to tradition, each note produced by the bowls corresponds with a chakra center of the body. The bowls are also used for relaxation, massage, yoga, stress reduction, healing, and reiki.
Using the bowl you're supposed to rub the outside of the rim in a circular motion and gently increase the speed as the bowl begins to vibrate. I'm not sure if I did this method correctly because the sound wasn't too loud. The other method is "gonging" or "striking" the bowls which was very simple and all you do is strike the bowl with the striking tool.
Honestly, I was really taken aback by how gorgeous the bowl is and pretty heavy. But the symbols all over it and the golden colored rims make it really lovely. You can hold it in your palm very easily, it's not too big or too small but you can get a good grip on it. The cushion I wasn't entirely sure where to put it because if you put the bowl on top you hide the the symbol but if you put the cushion on top it...doesn't look like it's supposed to go there. I ended up leaning the cushion to the side on my shelf that I have the bowl on to display it more. The Om symbol represents the long vocal tone that is often intoned at the beginning and end of of meditation and prayer sessions.
I am not a big meditation person but sometimes I do like to relax and need to relieve stress so I would just lightly gong the bowl at the end of the night before I went to bed so I didn't really have any crazy worries on my mind that would stress me out and keep me awake. It worked pretty well, I slept straight through.
Overall, I was really happy to learn about the whole history of the singing bowls. It just always intrigues me how other cultures have and use certain items. I like to think outside of our western box sometimes, you know? I definitely recommend the bowls if you are a big believe in meditation, buddhism, or just want to try it out. They're also very pretty so even if you are into eastern cultural pieces for art or decor, I'm sure you can use it too.
Buy It!
Head on over to
rel="nofollow">Silver Sky Imports' website
to browse their Tibetan singing bowls as well as their other bowls and pieces.
Win It!
ONE winner will receive a $50 gift certificate to Silver Sky Imports!
a Rafflecopter giveaway