It's October! That means Halloween is only a few weeks away! Still haven't chosen a costume yet? Don't worry! There is still some time. Plus, if you are stuck for costume ideas there are so many great costume websites to browse. One especially is
Costumes Express
. I love Halloween, it's my favorite holiday. I love going all out and dressing up which is why I was pumped to pick out a costume.
I ended up choosing a costume that works both for Halloween and for comfort throughout the year.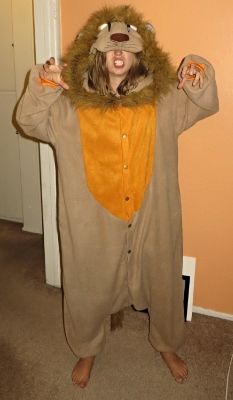 I chose their Bcozy Lion costume because first of all, doesn't it look awesome? But also because I will definitely wear it around the house when it gets cold in the winter. I love onesies because I'm still a kid at heart, plus they are perfect pajamas for cold winter nights. We actually don't have heat in my apartment because A: we are cheap and B: We always forget to light the pilot light til it's too late. Plus it's southern California it doesn't get that cold! (Yes it does, like 40/50 degrees, but I am too proud to pay for heating in Souther California!) But this Bcozy costume is just awesome.
The costume is a one size fits all but even when I wear it, it isn't obnoxiously huge. The crotch region is a little baggy but I feel like the costume is meant to look like that. It's supposed to look baggy and comfy. The lion hood is awesome too and it has a tail!
Overall, I love this costume just because it's more than a costume but also another outfit for me. I may even wear it to a 7eleven one night when I'm feeling adventurous. It is super warm, too. I put it on for a few minutes and it was very warm. It also isn't itchy or anything either which is awesome. It is very cozy much like it's name!
Definitely check out Costume Express but a forewarning, you may be on there for a while. They have so many costumes and accessories to choose from. So whether you're looking for a costume for yourself, you and your boyfriend, your children, your pets, or all of the above, they have something for everyone! You won't be disappointed!
Buy It!
Head on over to
Costume Express website
and browse their gigantically awesome selection!