A few of my favorite foods include pasta and seafood so whenever I go out to eat at a nice Italian restaurant I rock the seafood stuffed ravioli or, when I'm feeling saucy, the linguine with octopus ink. I love them. So when
BzzAgent
offered me the chance to review
Buitoni's
new Riserva line of pastas including stuffed crab ravioli and shrimp scampi ravioli, I jumped at the chance.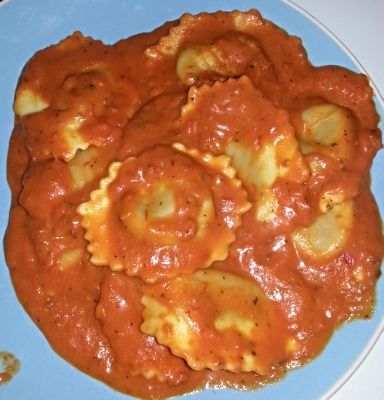 I chose their Riserva Stuffed Crab Ravioli.
BzzAgent's description of their crab ravioli states that it is "generously filled with tender crab meat, blended with custom Impastata Ricotta, Parmesan, and Grana Padano cheeses and accented with classic crab cake seasonings."
They are vey easy to make, the packaging says to boil four quarts but I only boiled three and it still was fine. Once the water boils, add the pasta and it tastes about 5-7 minutes. I heated up some sauce (vodka sauce) but only about half of the jar. Strained out all of the water from the pasta, then added the sauce, and ate!
I have to admit though, I was kind of bummed with the result. I have used Buitoni before for their tortellini and that's delicious but these crab raviolis did not compare. There wasn't much crab, which is fine usually because sometimes, especially with seafood, a little goes a long way because they're usually packed with flavor. This one? Not so much. I couldn't taste much flavor at all and didn't even realize it was blended with cheeses until I read the description on BzzAgent.
It was good but I just wanted more flavor especially for the price. They're sold at $5.99 for a bag which consists basically enough for a one person meal. I definitely want to try the other flavors, especially the Butternut Squash Agnolotti when it goes on sale. I'm sure the meat flavored pastas are pretty packed with flavor more so than the seafood, too.
Overall, I do recommend the brand Buitoni as they do have some delicious tortellini that I have purchased on occasion. I just don't recommend the crab ravioli. I knew it wasn't going to be restaurant quality, but I still just wanted something a little more.
Buy It!
Head on over to
Buitoni's website
and browse their recipes, products, and more!