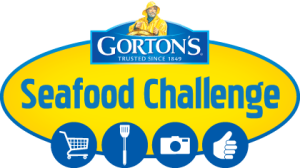 Hi guys! You all know I love food but sometimes/most of the time I'm a lazy cook so I love good quality products that are easy and delicious to make. That's why I love
Gorton's Seafood
. Check out my previous reviews for them
here
.
Gorton's contacted me to review one of their products in conjunction with their Wicked Seafood promotion. Currently Gorton's is running the sweepstakes on their website where you can enter daily until October 18th to win a Wicked Good Trip to Boston. The Boston trip is for 4 and includes airfare, lodging, activities, and spending money.
I received a few product coupons to check out some of their latest, delicious products along with an adorable USB in the shape of a fisherman, a Gorton's keychain, and some recipe cards.
I chose their fish sticks to review because I haven't had fish sticks in a bit and they're always easy to warm up and make great meals out of. I ended up making some super easy fish tacos.
Ingredients:
- Tortilla
- 3 Fish sticks
- Greens of choice (I chose Kale)
- 3 little bell peppers
- About 5 grape tomatoes, or just some chopped up tomatoes
- Some guacamole and hot sauce
Directions:
Pretty simple to make. All you do is follow the directions to heat up the fish sticks. Slice up the tomatoes and peppers. Then put all the ingredients on the tortilla and enjoy!
These fish sticks are awesome even if you're not a kid anymore. They're delicious. They're also made with 100% real fish, no fillers. They contain no MSG, artificial colors, or flavors. They also have natural Omega-3's.
I purchased the 30 pack and 30 fish sticks for less than $5 is well worth it. Definitely check out Gorton's and head on over to their website where you can download coupons to save some money, too!

Buy It! Head on over to Gorton's website and browse their selection. Click on the Product Locator tab and see where they're selling it near you. For me it's at practically any supermarket: Shop-Rite, Pathmark, etc.

Win It! ONE winner will receive $2 off product coupons, a USB fisherman, and keychain, too!

a Rafflecopter giveaway