There are so many hand sanitizers out now it is hard to tell which ones actually are safe on your hands and works and which ones don't do much but just smell really nice. Fortunately,
CleanSmart
is the former rather than the later. CleanSmart is a brand spankin' new hand sanitizer that is like no other and works wonderfully!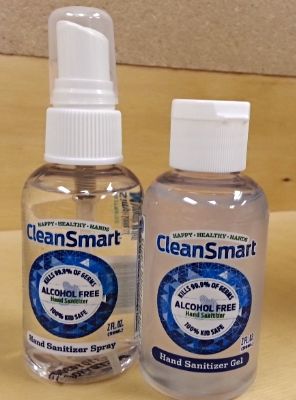 I was sent their moisturizing hand sanitizer gel along with their innovative hand sanitizer hydrating spray.
CleanSmart is really awesome because it's a hand sanitizer that contains no alcohol! I know you've probably seen those before but this one also has no oder, is naturally moisturizing, hypoallergenic, safe on kids, also has no triclosan or BZK AND kills 99.9% germs! I know what you're thinking, but how? How does it do all this without any alcohol?
Well the reason CleanSmart doesn't need alcohol is because of hypochlorous. Hypochlorous is naturally produced by our own bodies to fight viruses and bacteria. CleanSmart has replicated hypochlorous using simple, safe ingredients and really smart science. The result is great and it's also dermatologist approved!
Honestly, I kept smelling my hands after I sprayed them or put some gel on but it has no smell at all and I kind of love that. I always hated that alcohol scent or that heavily perfumed scent to cover up the alcohol scent. The hand sanitizer spray feels like you are just spraying water on them. I almost wanted to taste it to make sure it wasn't just water. The gel has that more traditional sanitizer feel but again, no smell. Also it isn't as watery as some gel sanitizers that I've tried before.
As you can tell, I really enjoyed both of these hand sanitizers, especially the pray because it is so unique and still works so well. As for the naturally moisturizing part, my hands didn't feel super moisturized after using the sanitizers but also they didn't feel dried out like they usually do after using other sanitizers, so I'll take it! CleanSmart has quickly become my favorite hand sanitizer and I wish there were more like this.
Overall, with cold and flue season rearing its ugly head, CleanSmart is a great combatant against those nasty germs and others, too. Definitely check it out for you and your family you won't be disappointed!
Buy It!
Head on over to
CleanSmart's website
, it is currently only available online, but early next year it'll be in stores, too!