I'm a big fan of gifts, but I really enjoy giving them more than receiving them sometimes. I just like to think of thoughtful, nice gifts rather than impersonal ones. For instance, you'll never see me give someone a gift card unless they really ask and want a specific store. I also love giving people little surprise gifts and that's where Anne Taintor comes in. You may remember I've done a review for them before and you can check it out here. In anticipation for the upcoming holiday season, I was selected to review some of their awesome items that make great gifts for the season.
Anne Taintor is a great site that has a variety of products that make perfect gifts for that savvy woman who is impossible to shop for. Or even funny little gifts for stocking stuffers, for your mom, roommate, or friend!
I received a great little gift pack consisting of:
- "We go together like drunk and disorderly" Knee Socks
- "So...how does a bombshell like me get through security?" Luggage Tag
- "Honey you couldn't handle half of me." Emery Boards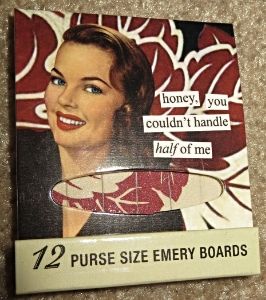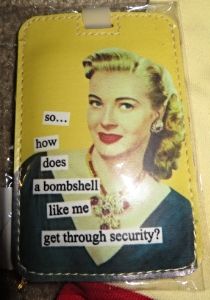 I think these gifts are really great to give as a set for a friend. From your travel buddy to your best friend. They're also great because the three of these items only came to a total of $25. So if you're exchanging gifts on a budget this is the perfect website to get them from.
Honestly, I am keep the emery boards and luggage tag for myself because I need them. In a way, they're gifts for me. I always lose emery boards and this package is basically like a set of matches but emery boards instead. I can just break one off, put it in my purse, and if I lose it I break another off and throw it in my purse. I also really like the luggage tag because it's unique, funny, and I have a black bag so the break colored tag will at least make it still out and I can grab it faster.
The socks are awesome. Honestly I would keep them for myself if I received them as a gift just because it's kind of a buddy item. You wouldn't buy this for yourself because to two people. It's the type of gift many people will think is funny and enjoy receiving it. I am actually going to give it to my friend in NJ and I think she'll get a kick out of them.
Overall, I really like Anne Taintor's gifts because there's a variety of awesome great products for any lady friend, mom, or just yourself!
Buy It!
Head on over to
Anne Taintor's website
and browse their awesome selection!