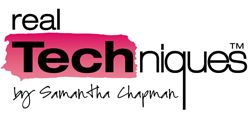 Hey guys, I'm a girl, as you all know by now, and like most girls, I am a fan of makeup. So when
Klout
offered me a perk to receive
Real Techniques
makeup brushes and host a Girls' Night In party with my friends, I jumped at the chance.
I decided to have a movie night with a few friends and have them bring some of their makeup so we all can experiment on each other's faces. I don't like many chick flicks and since it was Halloween season I chose some scary/Halloween movies to watch: The Lost Boys and Evil Dead. We also had some snacks like chips, salsa, and pumpkin cake pops.
It was a fun night and, honestly, I ended up learning quite a bit of new and cool techniques for makeup. I like makeup but I am not the most knowledgeable at it so I always like learning more. So we watched some of Sam's, the creator of Real Techniques brushes, makeup tutorials. I learned how to contour. Check out the tutorial here:
I was sent a variety of Real Techniques brushes and sets.
- Blush Brush
- Your eyes/enhanced Starter Set 2.0 containing:
Base Shadow Brush
Deluxe Crease Brush
Pixel-Point Eyeliner Brush
Brow Brush
- Your base/flawless Core Collection 2.0 containing:
Pointed Foundation Brush
Buffing Brush
Contour Brush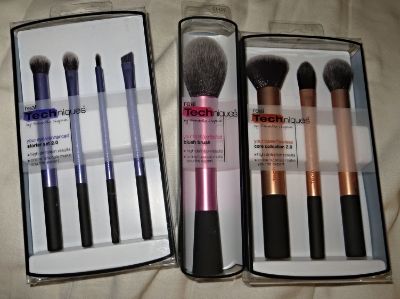 Honestly, I had no idea there were so many uses for so many different makeup brushes. I usually just use like two sometimes three brushes: eyeshadow brush, blush brush, and sometimes a bronzer one. Who knew how much nicer your makeup looks after using the proper makeup and brushes? Clearly not me, until now.
We didn't have all of the proper makeup to use the base collection. For instance, I had no powder to use the buffing brush. My friend used the contour brush on her face and she said it worked out pretty well. I used the pointed foundation brush and it worked pretty well, too. I have a liquid foundation and usually use my fingertips. I never really thought of using a brush. I liked this brush though because it was big enough to cover more area on my face than my fingertips. It also didn't streak my foundation or anything either but spread the foundation pretty evenly.
As for the eye starter set I felt it was mixed. I really liked the brow and eyeliner brushes. The brow brush helped define the brows and shape them, while the eyeliner one worked great for liquid liner or even really dark eyeshadow. You can add a lot or a little and not much of the eyeshadow shed or anything when it was on it. I can't say the same for the base shadow and crease brushes. I feel like the brushes were too plush so you couldn't control the color as well. The crease brush was a bit better because of the style of the brush you kind of buff the color in. The base one just shed a lot of color. I think it wasn't dense enough. Much like the blush brush which I was most disappointed with. I would use so much blush color and it really would not transport properly from the brush onto your cheeks. It was too plush where there was no control, once you put it to your face the bristles would just spread. It needed to be a bit more firm.
Overall, I did love the look of the brushes, they're really colorful and have great grips. You can tell they were made well but for certain brushes they picked the wrong kind of bristles, the plush ones didn't work out all the time. My friends also felt the same and we were all bummed with the blush brush but liked a lot of the others. Plus the tutorials were really great and informative, too! While I don't recommend all of them, I do recommend some, and I also recommend having a fun Girl's Night In party with your friends because it makes trying the brushes that much more fun!
Buy It!
Head on over to
Real Techniques' website
and browse their selection!