Hey everyone! I hope you all had a great Christmas! I sure did. I'm back on the east coast for a few weeks and I'm loving it. On the plane here I read a nice book to get into the festive spirit and it was the Chicken Soup for the Soul It's Christmas volume. The book contains 101 stories revolving around almost everyone's favorite holiday: Christmas!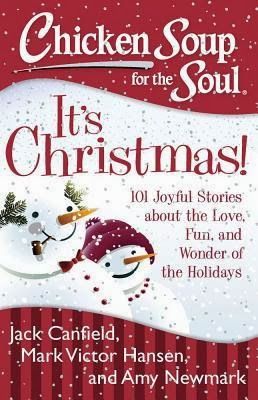 They split up every few stories by sections like "Bark! The Herald Angels Sing" which is about pets, "Holiday Hijinks" which is about funny stories or games done, and "A Little Help from my Friends" which is about friends.
I really liked the variety of stories. Some were a bit sad, some were funny, but they were all ultimately uplifting. From a mom looking for Romanian ornaments for her adopted children who were from Romania just to give them a little piece of their heritage, to a boogieman scaring you awake actually being an adorable puppy. There's so many good stories in here all revolving around the central theme of Christmas.
One of my favorite stories was called "Christmas Stranger," it was about a mom taking her kids to a restaurant and a stranger paying for the bill. Then they took that tradition on themselves and did it every year for someone else, too.
I really enjoyed Chicken Soup for the Soul because it really does lift your spirits. You may be depressed but then read some of these stories. There's people dealing with cancer, their grandmother having a heavy dose of altheizmer's, and then some. But they look at the good in life, that everything is going to get better and it all works out. It's pretty inspiring because sometimes you forget to do that.
Overall, I was really impressed with this edition of Chicken Soup for the Soul and if you're into these books or need something inspiring or to life up your spirits, definitely check it out!
Buy It!
Head on over to your local bookstore or head on over to
Chicken Soup's website
where you can submit your story or browse the other books they have.