'Tis the time of the season for a Loot Crate review! You all know I love Loot Crate, this month it isn't much different. This month's theme was Console Wars, a play on clone wars from Star Wars but specifically for all the various consoles out. What with the new X-Box and Playstation, the war does wage on.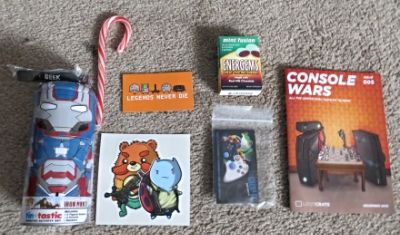 This box included:
- A candy cane
- Grip-It Control Protectors
- Iron Man Tin-Tastic Creative Activity Set
- Energems in Mint Fusion
- Geek Wristband
- Legends Never Die Magnet
- Bravest Wars Sticker
- Console Wars II T-Shirt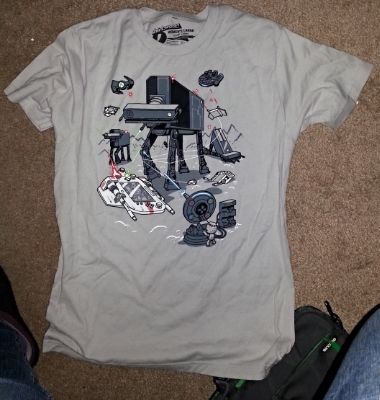 First off, I loved the little candy cane they threw in there because it is the holidays and I do love candy canes. Secondly, I thought this theme was a really great idea especially during the holidays because the Xbox One and the Playstation 4 is on a lot of people's Christmas lists this year so they're both on everyone's minds. This is just a great reminder about how much you want one/need to get one for a loved one/how much you can't choose between the two of them.
I'm not a huge gamer but I know many people that are and many Loot Crater subscribers are so I know this theme must have killed with others. I loved how they incorporated the Star Wars element to it especially with the t-shirt which is pretty awesome. I liked how on the shirt they converted the Star Wars ships to consoles, it's really cool and kind of inside-jokey because at first they just look like ships but then you realize "hey wait, that's a Nintendo DS." It's really funny and definitely the type of clever humor I enjoy.
The energems are pretty great too because even though they threw them in for those gamers that stay up late raging battles on their consoles, they're also great for writers and content creators that need some energy to finish their work too, aka people like me. It tasted like mint chocolate and pretty darn good. I definitely may look into buying these in the future. Especially because they have other flavors like peanut butter and just plain chocolate too. I definitely gotta try the peanut butter one.
I loved the Legends Never Die magnet because it's true. No matter how many new consoles come out the old original Gameboy and N64 will never get old. I can still have a blast on Mario Kart on N64 and even rock some Pokemon on my Gameboy.
The Iron Man Tin-Tastic item is great, too. I'm going to give it as little Christmas gift for my Uncle who's a die hard Iron Man fan. Well, technically Spider-Man and Green Lantern are his #1's but he loves Iron Man, too. It contains stickers, pencils, and two little Iron Man figurines. I'm sure he'll definitely get a kick out of it and the tin is pretty awesome, too.
The other items like the grip-it control protectors and geek wristband were pretty awesome, too. I love how they can make little awesome stocking stuffers if you know someone who'd like them more. Or, you know, you can just give yourself a little stocking stuffer, too.
Overall, once again Loot Crate doesn't disappoint. Also, if you know a fellow nerd, gamer, or geek and don't know what to get them for Christmas this is it! A subscription to Loot Crate is sure to make them happy, plus it'll feel like Christmas once a month for them! You can also gift yourself a Loot Crate subscription because, why not? You definitely won't be disappointed!
Buy It!
Head on over to
Loot Crate's website
. They're less than $20 per month! Also use the code
STAR
to get 10% off your order!