2013 has a problem it has too many good movies, did you see the nominees for the Golden Globes? It is a pretty stiff competition. One of nominees is Saving Mr. Banks. Saving Mr. Banks tells the story of the making of Mary Poppins and how it was a bit difficult to make thanks to the book's author P.L. Travers. I recently had the opportunity to see a screening of it on the Disney lot in Burbank.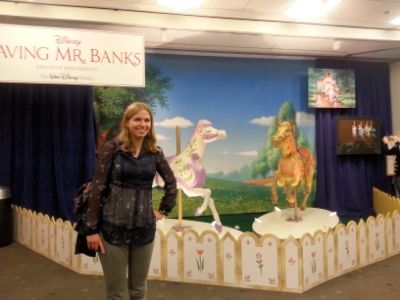 The film stars Emma Thompson as P.L. Travers and Tom Hanks as the man himself, Mr. Walt Disney, along with Paul Giamatti, Colin Farrell, and Jason Schwartzman among others. Although you know the outcome of this plot, it still is a great film. I really enjoyed it.
The film shows two time periods: The 1960's when they were in the early stages of making Mary Poppins, writing the script, arguing whether or not the color red should be in the film, and performing the songs. And the early 1900's when P.L. Travers was a child living in Australia with her family.
It's based on a true story, obviously, but some of the truth wasn't in the film for instance in the film she is "Mrs. P.L. Travers" but in fact she has never been married. She actually did date both men and women, too. My roommate told me this, she's a pretty knowledgable Disney historian. But overall, the premise and P.L. Travers' stubborn personality are pretty great adaptations to what really happened. For instance, in the movie she was a firm believer in recording every discussion they had during the development of the film Mary Poppins and, as we watched the credits roll, they played an actual recording of P.L. Travers' arguing on a recording.
The earlier time period was great too, giving great exposition and kind of showed you why P.L. Travers became the way she did. Colin Farrell did a great job playing her father.
It was a great all around film with funny parts, sad parts, and even some pretty dark parts. There's also lots of funny inside joke parts for if you have seen Mary Poppins, but I did take my one friend who has never seen the movie (I know crazy, right?!) and she still liked it a lot, too.
Overall, I know there are a lot of good films out right now and they just keep coming out! But be sure to make some time to see this one, especially if you love Disney and Mary Poppins.
See It!
Saving Mr. Banks is playing now at a theatre near you!