I love chocolate. It is pretty much my weakness. Honestly, I avoid buying it most of the time because I go crazy with it. Then, really fun opportunities like being able to try out Hershey's new spreads before it hits stores come around and, well, you really can't pass that opportunity up. Yup, you heard that correctly, Crowdtap gave me the opportunity to sample and share Hershey's new chocolate spreads before they come to stores on December 6th.
I received their chocolate with hazelnut spread and it is crazy addicting. You can spread it on practically anything! In fact, it was one of Crowdtap's challenges to find five foods to spread it on, and honestly, it was an easier challenge than I thought.
I first spread it on my pumpkin bagel. It made for a great alternative to apple butter or cream cheese, which I usually use. It was great when you wanted something crazy sweet and delicious in the morning. Plus chocolate and pumpkin actually work pretty well together, definitely an underrated pairing.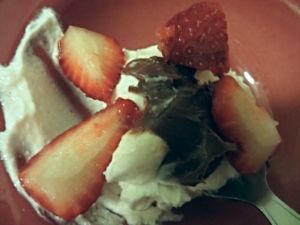 Another great breakfast idea is using the spread with greek yogurt. In the morning I usually have greek yogurt with apple butter and strawberries and I swapped out the apple butter for the spread and it tasted just as good. Super sweet and yummy! It's a bit thicker than apple butter so a little more difficult to mix with the greek yogurt but once you use that elbow grease and mix them up it tastes awesome. It is a really great breakfast idea.
The next experiment I did was with nuts. I wanted to dip pretzels into the spread to satisfy the sweet and salty craving that we all get but I did not have any pretzels. Looking through my cabinet I did find nuts and chocolate covered nuts is always a good idea, so I dipped them in the mix and bam! A delicious explosion of sweet and saltiness in my mouth.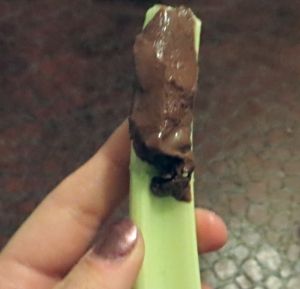 The rest I used mainly produce because I'm a produce fiend. Also, I feel like spreads work really well on produce, I mean look at ants on log (peanut butter and raisins on a piece of celery), that is always delicious. That's how I thought of using the spread on celery. Celery is always great with spreads because it doesn't have much of a taste but the crunchiness work really well texture-wise with them. It turned out awesome. I was dipping my celery in hummus but decided to rock the chocolate spread and it was so delicious.
Lastly, the two I used were apples and strawberries. These are like mandatory go-to's for spreads and dipping. I mean look at chocolate covered strawberries, that is what this essentially was and it was so delicious! The apples worked so well, too, I even like to make apple and peanut butter sandwiches but I could make an apple and Hershey's spread sandwich instead next time.
Overall, I really do love this spread. I'm surprised Hershey didn't make something like this sooner because it is a great and delicious product. Remember though, it is chocolate and a little goes a long way. I know that is my problem: portion control, because when I use spreads I spread it on thick! Fun fact, this is also why I stopped buying peanut butter because I would just go nuts (get it? get it?).
Buy It!
Definitely check out Hershey's spreads if you love chocolate as much as I do, you won't be disappointed! They hit stores December 6th!