So who has an instagram? Pretty much everyone right? I do! You can follow me
@hollyweirdo
. Sometimes we take silly photos like of food and drinks but some of the photos are really memorable and with those filters can actually look really nice. So why not do something with them? That's where
Instajunction
comes in! Instajunction is a great company that can create a variety of awesome products with your instagram photos. From charm bracelets to magnets, they have so much to choose from!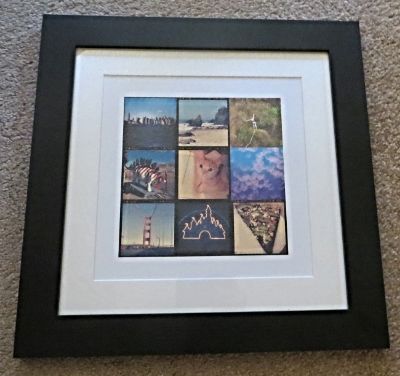 I kept it simple actually ordered a print of nine of my instagram photos. I was going to choose magnets but last minute decided on a print. I chose a bunch of random ones but still meaningful photos like me bungee jumping in Costa Rica, my favorite pizza in Brooklyn, and my main man my cat Snaps. It took me forever to narrow it down but I really like how it came out.
The print is really great quality and it already comes inside a nice black wooden frame. You can choose a variety of photos from just one print to 16 prints, all for the same price of £24.99 (that's like $50 US basically). I chose 9 because it looked like enough without being like an overwhelming amount. You just link your instagram account to instajunction and you can pick and choose which ones you prefer. It's really easy and very user friendly to use.
You can even probably upload photos of your friends and stuff on instagram temporarily just to use them for instajunction, I was thinking of doing that but decided against it.
I think this is such a cool and great idea to make use of your instagram photos because instagram is cool and great but what if that site goes down, you know? You may lose those photos, here if you make magnets or prints at least you'll have them. Also these make great gifts for your friends and family, especially if you take instagram photos a lot with your friends and whoever. You can give them some awesome coasters or a nice keyring. It's the perfect gift for this holiday season, definitely check it out you won't be disappointed!
Buy It!
Head on over to
Instajunction's website
and browse their awesome selection! Use the code
FRIEND25DY
before December 8th to get 25% off your order!