Hey everyone! Apparently it is that check in time of the month, what with Loot Crate's review yesterday and now today with Devo Olive Oil one. Let's get into it, shall we? Thanksgiving is just days away, are you prepared yet? If not get cracking to it! If you aren't big on turkey or are pescatarian (like me) sometimes you make other alternatives. One great addition is pasta! It makes a great entrée for vegetarians or side dish for everyone else!
Th month's Devo Olive Oil Flavors are:
- Sicilian Lemon Balsamic
- Wild Mushroom and Sage Olive Oil


I actually used the Sicilian lemon balsamic immediately in my daily salad for lunch. I always make what I like to call a "fully loaded salad" which consists of basically all of the fruits and vegetables I have in my refrigerator. This one consisted of: spinach, broccoli, tomatoes, celery, and beets. I always add balsamic vinegar to the salad or switch it up by adding a flavored vinegar, thus I added this one. I noticed the lemon and beet flavors actually worked really well together. The bitter lemon taste was subdued a bit by the beets. I also did like the combination of lemon and balsamic because they're both very strong flavors and arguably pretty healthy for you. It made a great addition to my salad.
The Wild Mushroom and Sage Olive Oil assisted in the making of a delicious pasta -- twice! I accidentally made a pasta, ate it, and forgot to take photographic evidence! Oh well, it was so good I really wasn't mad that I had to make it twice. I just made a simple spaghetti pasta.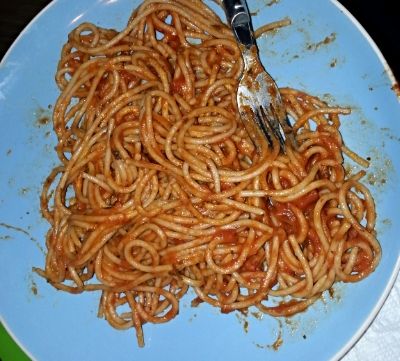 Ingredients:
- Spaghetti
- Garlic Powder
- Basil
- Sauce of Choice (I used tomato basil)
- Wild Mushroom and Sage Olive Oil
- Salt
- Vegetables like tomatoes and broccoli *optional
Directions:
- I cooked the pasta as usual, adding in a few pinches of salt. Usually after 11 minutes in boiling water the pasta should be done. Then, drain all the pasta, getting rid of all of the water, and add it back to the pot.
- Chop up the veggies and sauté them until their cooked enough to your liking, Add about 2 tablespoons of Wild Mushroom and Sage Olive Oil and 2 tablespoons of garlic powder to them for taste.
- Begin heating up the sauce in a smaller pot, this only takes a few minutes.
- While the sauce is cooking, add the Wild Mushroom and Sage Olive Oil to the pasta. Maybe about 2-3 tablespoons. I gave it like 1.5-2 circles around the pot. Add some pasta and parsley, too. Probably about a tablespoon each.
- Once the vegetables are done cooking add them to the pasta and mix them around. Then add the sauce, too.
- Eat!
As you can tell by the photo I didn't add the vegetables to this one but I did to the first one! I promise it was delicious, I just ran out by the time I made it the second time.
This is the type of olive oil that you really don't need to add any sauce to. The Wild Mushroom and Sage Olive Oil has enough flavor alone. Next time I want to just leave out the sauce and add some parmesan cheese instead. Not trying to knock the sauce, but it ended up kind of smothering the flavor of the olive oil which was a bummer because that did taste pretty delicious.
I definitely would recommend the Wild Mushroom and Sage Olive Oil because the flavor was great, probably one of my favorite if not my favorite olive oil so far. It would make a great bread dipping oil too for holiday parties and get togethers.
Once again, Devo Olive Oil does not disappoint. Definitely check them out and add them to some fun and delicious holiday recipes!
Buy It!
Head on over to
Devo Olive Oil's website
and browse their huge selection.