Once again it's that wonderful time of the month where I receive a box of awesome surprises. Christmas come early, it is Loot Crate time!
The theme of this month's Loot Crate was Celebrate! It's that time of the year where the holidays are nearing and you start celebrating with friends, family, food, and fun. Loot Crate has you covered with all those festivities in this box!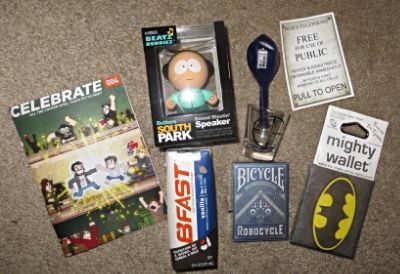 The items in this Loot Crate are:
- South Park Butters Rechargeable Mobile Speaker
- BFAST Breakfast Shake in Vanilla
- First Person Shooter Shot Glass
- Batman Tyvek Mighty Wallet
- Robocycle Playing Cards
- Doctor Who Tardis Balloon
- Doctor Who Police Box Wall Graphic
I really enjoyed this box because it had a variety of items that any gamer, nerd, and/or geek can enjoy...then again what Loot Crate doesn't? They all were very different items but still revolved around celebrating.
The Butters rechargeable speaker was one of my favorites. He's pretty small so you can take him anywhere but still is loud enough to be a great speaker. It's also a great little collectible for South Park fans. Take this little guy to your house party or celebration event. Even when you're with your family at Thanksgiving or Christmas, plug this guy into your phone, stream some Christmas tunes and you are set!
The Batman Mighty Wallet was also one of my favorites, too. I'm a huge Batman fan so I love any Batman memorabilia. I usually use a big wallet but I like small ones for certain occasions, too. Whenever I go to a theme park, beach, or day trips where I really won't be needing my tons of reward cards or credit cards I switch to a smaller wallet. I have Jack Skellington one but it is ripped so I actually did need a new one and this came at the perfect time. To tie into celebrating, put all your money you plan on spending to get holiday gifts for your friends and family when celebrating Christmas.
The deck of playing cards are really great because everyone loves playing card games, especially if you're having a little party or get together at your house. I remember many nights in college playing Kings or Castle. It's a nice way to have fun without lugging around a big board game. These cards bring that extra bit of geeky awesomeness because they're all robots or robotic themed instead of people.
And what's a celebratory party without some drinks? That's what the First Person Shooter Shot Glass is for! Based on the first person shooter video games, add some of your favorite alcohol of choice and take a "shot"! Get it, get it?
When you're hungover from all that celebrating and the thought of eating makes you not feel so hot try out the BFAST Breakfast shake. Or, if you're not hungover but instead in a hurry to get to that party before celebrating...BFAST! It gives you the nutrition of a bowl of cereal and milk and tastes pretty darn good, too.
Lastly, the Doctor Who products. Fun fact, it was the Doctor's 50th birthday last week and there was this crazy celebration on Saturday. I'm not a Doctor Who fan but roommate is and she was pretty overjoyed when I gave her the wall sticker and balloon, It came at the perfect time, too. I received the Loot Crate on Thursday and she was heading to the Doctor Who event on Saturday. Her friend actually ended up dressing as the Doctor (#11) and blew up the balloon to use as his Tardis. Apparently he was stopped by a fellow Loot Crater which was pretty funny. So both items were great for celebrating the Doctor's birthday.
Overall, once again Loot Crate doesn't disappoint. Also, if you know a fellow nerd, gamer, or geek and don't know what to get them for Christmas this is it! A subscription to Loot Crate is sure to make them happy, plus it'll feel like Christmas once a month for them! You can also gift yourself a Loot Crate subscription because, why not? You definitely won't be disappointed!
Buy It!
Head on over to
Loot Crate's website
. They're less than $20 per month! Also use the code
STAR
to get 10% off your order!