Hey guys! Since I'm about to go away to Hawaii for my birthday I thought I'd tell you about something vacation related! And that is
Escape Monthly
! Escape Monthly is the "Vacation in a Box" that brings subscribers to a new destination every month and it's going to Colorado for their January box.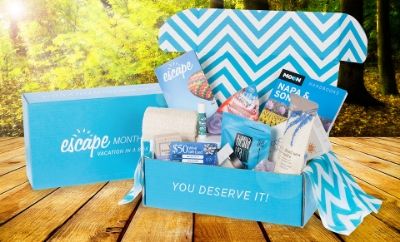 Escape Monthly is excited to introduce the world to the tastes, sights, and unique character of the state, and has partnered with local small businesses like Whitegirl Salsa, Colorado Aromatics, Jackson's Honest Chips, and Pike Peak Rocks. The service hopes to drive interest in the state while providing its members with high-quality products and a fun experience.
Each delivery of Escape Monthly includes authentic local products from that month's destination. In December the service brought its subscribers to Italy with products like imported Italian Olives, Black Truffle Body Lotion, and organic hazelnut spread.
Definitely check them out especially because I love traveling. I'm pretty excited to see what this box has in store. I'm sure we won't be disappointed!
Buy It!
Head on over to Escape Monthly's website. Joining the club costs $49.95 a month with free shipping but use the coupon COLORADOESCAPE to get 20% off your order! Hurry because the subscription for the Colorado box closes at midnight on the 15th!
Win It!
ONE winner will win a Colorado box for themselves!
a Rafflecopter giveaway