This past Saturday I was lucky enough to be apart of a virtual hangout for the upcoming animated family film
The Nut Job
. It included the stars of the film Will Arnett and Katherine Heigl.
The Nut Job
tells the story of Surly Squirrel (played by Will Arnett) who gets banished from his park. In order to get back into the park community, he thinks up this crazy heist to get a ton of nuts for the park to help them survive before the winter weather hits.
They discussed some of the film, saying which character they related to and liked the most, both agreed upon Precious the dog (played by Maya Rudolph). Though the brunt of what they spoke about was working on an animated film while balancing family life. Will Arnett and Katherine Heigl are both parents and one of the reasons they took roles in this film was for their kids. "It is important to me at this stage in my life to do stuff that I can enjoy with my kids," Arnett stated.
It is actually Heigl's first animated film, "I just wanted to be apart of something I could share with my kids and we are big animated movie watchers," Heigl said, "I just thought it would be fun if I was actually in one."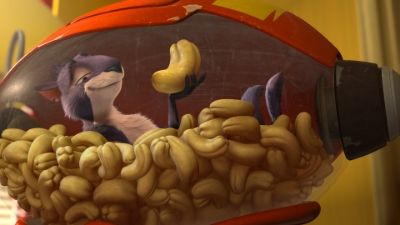 While Arnett is a seasoned animated professional appearing in
Ratatouille, Despicable Me,
and
Monsters vs. Aliens
. He knows how to prepare but it doesn't make it any easier, he just know how to balance work and family. "I try to reverse engineer it to see what my family demands are, what my kids need, and then kind of work backwards from there and retro-fit everything into it," Arnett explains, "I feel very blessed to get to work on something like this."
Arnett went on to say, "Anything that takes me away from my kids I dislike." Heigl jokingly responded, "I do sometimes." She went on to explain how she worked on a movie for three weeks and it was a nice break for the first week to sleep in bed and not have someone else jump into and wake you up.
Overall, it was a really fun virtual hangout. While I don't have kids or anything I still am pretty excited to see the movie. The way the trailer looks it kind of reminds me of that older animated movie called
Over the Hedge
which was hilarious and I loved it. Though I haven't seen it yet, it has a great cast behind the voices of the characters from Arnett, Heigl, to even Liam Neeson and Brendan Fraser. I recommend checking it out this Friday when it hits theatres!
See It!
The Nut Job
in theatres this this Friday, January 17th!