Hey everyone! I hope you're staying warm with this crazy winter we are having. I heard even the south is getting some crazy state of emergency weather. Hopefully you aren't sick, but if you are, maybe even a little tickle in your throat check out
Ricola
.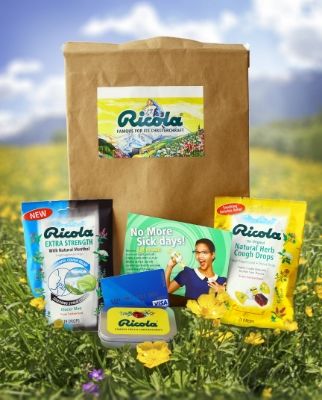 I was sent a pretty awesome Chrüterchraft Prize Pack which includes:
· Ricola Soothing Relief Kit (which includes Ricola's Natural Herb Cough Drops, Ricola Extra Strenght & cough drop tin)
· $25 Visa gift card
I love Ricola, the honey lemon cough drops are my go-to's for when I am sick. These are awesome too, I've had the natural herb cough drops in the past and loved them and the Ricola extra strength with the natural menthol just clears your nose and throat up.
With sick days peaking this month, Ricola is asking what would you do if you could actually call in well and have a day off just to do whatever you want, sick-free? Me? Well I recently got back from a vacation in Hawaii so I actually can't make any call in sick or well days for a long, long time but if I had an extra day to take off what would I do? Probably sleep in a little bit but make sure not too long because I want to enjoy the day. I live in Southern California, so fortunately for me, I am safe from all those snow and ice storms. Hopefully my call in well day will be another sunny day. Honestly though, I'd probably wake up early enough to go to my favorite gym class at 10:30 that I can't go to anymore because of my real job. Then I might go on a hike but a long, nice hike. There's one in I think in Pasadena where you can see a waterfall and it's really nice. Basically, I'd just spend a nice day outdoors by myself to just give my brain a break. It would be really chill and probably one of my favorite days ever.
What would you do? Ricola is encouraging you guys to trade in your sick days for well days by inviting you to "Call in Well." Now through January 31st, you can call 1-855-4-WELLDAY or text RICOLA (22122) to share what fun things you do if you took a "well day" off. Remember even though it is winter, there are still plenty of fun things out there even if it's snowing (snow men! skiing! just diving into the snow!) Definitely try calling in because one lucky winner a day will win $500! For more info visit Ricola's Facebook page for official rules.
Buy It!
Head on over to
Ricola's website
and browse their awesome selection.
Win It!
ONE winner will win a Ricola Prize Pack like the one above!
a Rafflecopter giveaway