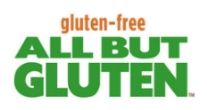 Gluten allergies are a pretty big issue and a few of my friends actually suffer them. This is an allergy you can just develop over time. So you can love cupcakes and bread things but then the next day you become allergic to gluten and you're stomach feels gross and terrible after eating that said cupcake or bread thing. What do you do? Another problem with the allergy comes the search for finding gluten-free goodies to replace the old ones. Fortunately help is on the way thanks to
All But Gluten!
!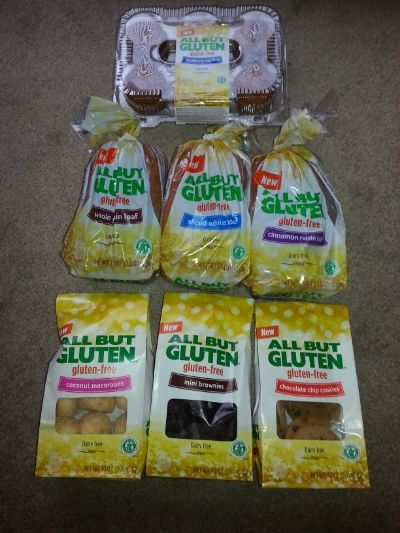 I received wonderful assortment of products from All But Gluten, the list is as follows:
Blueberry Muffins
Coconut Macaroons
Mini Brownies
Chocolate Chip Cookies
Whole Grain Loaf
Cinnamon Raisin Loaf
Sliced White Loaf


Man, these products are pretty amazing. Honestly, I don't have a gluten allergy but I have had gluten-free products in the past because I've been at my gluten-free friends's houses and had some of their snacks and some are awesome and amazing, while others…are not. These are the former, they are awesome and amazing! You can't even tell they're gluten free, they're so good!
My one good friend is actually away and coming back this coming week, she's gluten free, I was planning on saving some goodies for her but…I'm failing hardcore. They are just too good! I think I may have some bread left for her but the snacks are not likely. I am trying though! But they just keep looking at me and telling me to eat them, I just have to listen.
The chocolate chip cookies were the first to go. They were soft and tasted like freshly made cookies. I am a sucker for soft chocolate chip cookies rather than the crunchy, hard ones. Dip these babies in milk and it's a mouth explosion, so good! The mini brownies tasted perfect, too. You know those "healthy" brownies some brands sell where they taste like chocolate cake or whatever instead of brownies? Nope, not these. Full-fledged brownies. The coconut macaroons? So soft and filled with coconut flakes. Neither were burnt either! Whenever I attempt to make brownies or macaroons I burn them so they rocked it more than me. The muffins were delicious too, I love blueberry anything and they tasted so good, too.
The bread was great too. I particularly liked the Whole Grain and the Cinnamon Raisin. The White was great, typical white, I'm not a huge fan of plain white bread but hey it does the job for sandwiches and all that fun stuff. The white is a good source of 4 vitamins & minerals with 4g of protein. I loved the whole grain because it's made with flax seeds and sunflower seeds and you can see them in each slice. It is also a good source of fiber and 7 vitamins & minerals with 6 g of protein. I like to make my egg-in-hole things with the whole wheat toast. Just make a hole in the center of the bread (I use a shot glass because surprise! they are multifunctional). Add some hot sauce on top and bam, a delicious breakfast. Lastly, the Cinnamon Raisin is incredible. Add some jam or just solo it's the perfect amount of sweetness to just be perfect. It's a good source of 5 vitamins & minerals. One thing about the bread is I found it to crumble a little easier than bread with gluten but probably because it's made without all of those chemicals and stuff most bread is made with.
While these are excellent, delicious, and taste just as good, maybe even better than cookies, brownies, and bread, you have to keep in mind that they are bread and baked goods so they leave out the gluten, yes but they still have as much calories as your average bread and baked goods. For instance, the muffins are 230 calories, the brownies are 100 calories each, and the whole wheat bread is 120 calories per slice. So they taste good but don't inhale those cookies as fast as I did, treat yourself!
Overall, I have become a huge fan of these products. Not only are the gluten free but also kosher, dairy free, and made in the USA, too. Definitely check them out!
Buy It!
Unfortunately, All But Gluten products currently are only found at Safeway stores in Northern California in the fresh bakery section. But contact your local retailer to inquire about the availability of your favorite styles and flavors because maybe they'll be in your store, soon!