Although it took me a few years I feel like now I can confidently say what type of person I am: a tea person. It just tastes better to me than coffee and I like the vsriety of tea more than the variety of coffee. Also, I feel like there are more health benefits in tea than coffee. There is one dilemma though, tea, especially loose leaf tea, can be difficult than coffee to drink on the go. Thankfully,
Libre Tea
is here to help you out with that!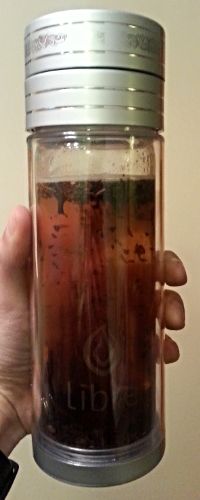 Libre tea glasses make it convenient to drink your loose leaf tea. It comes in three sizes: a mug (10 oz), an original size similar to a travel coffee tumbler (9 oz), and a larger travel tumbler (14 oz). I received the original size.
It is very easy to use, all you do is remove the lid and stainless steel filter, pour your loose leaf in there (I usually use about a teaspoon or so), pour the hot water and sugar over it, put the filter on again, and enjoy!
The tumbler is made of glass and is BPA-free. Plus with the easily removable filter it makes cleaning it a breeze.
I really enjoyed this tea glass. I recently came back from vacation and was a little under the weather, probably from just getting re-acclimated to reality and work, I had a bit of a sore throat. Every morning I drank a cup of loose leaf jasmine green tea with some lemon in this glass while driving to work and it really helped. I actually preferred using this glass instead of a little teapot and mug because it made everything easier. I didn't have to wait to finish my tea before leaving for work and I didn't have to clean as much. Plus cleaning this glass is lot easier than cleaning a teapot but still tastes just as good.
Overall, I really enjoyed this tea glass, it worked really well. Definitely check it out if you're a tea fan, especially if you're a loose leaf tea fan.
Buy It!
Head on over to
Libre Tea's website
and browse their great selection!
Win It!
ONE winner will receive an Original Libre tea glass like the one above!
a Rafflecopter giveaway