I feel really bad for you all on the northeast coast right now because of snow, snow, and more snow. It just keeps coming! Not only that but with this cold weather people keep getting sick, too. As the saying goes, "New year, new cold and flu season,"...right? Fortunately, there some precautions you can take to at least try to protect yourself from flu and other viruses.
BabyGanics
is here to help you out!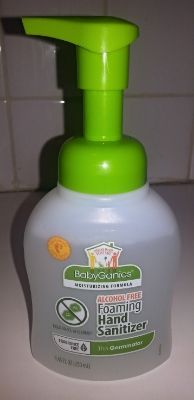 BabyGanics' latest product: The Germinator is an alcohol-free foaming hand sanitizer and is here to save the day!
One of the simplest and easiest ways to prevent getting sick and illness from spreading is to wash your hands and keep them clean. But when you are no where near a sink you use hand sanitizer, right? And that's a good secondary sure, but some don't work well or dry out your skin from the alcohol. Luckily, The Germinator protects and sanitizes without doing any of that bad stuff. The Germinator is alcohol free and still effectively kills 99.9% of germs without the harsh effects of alcohol or other synthetic chemicals. It instead utilizes benzalkonium chloride which is a naturally safe and effective substance. It is clear and won't stain your clothes or anything like that, is fast acting, and non-flammable, too.
The Germinator is actually a non-toxic formula that actually moisturizes as it cleans. Also, naturally because it is from BabyGanics, we know that this hand sanitizer is perfect from everyone -- big and small, from adults to babies.
I really liked this hand sanitizer because it is alcohol free and doesn't dry out your skin and doesn't have that gross alcohol scent. I also liked that it didn't leave your skin sticky after using it but just nice, dry, and clean. It is great for parents to use on your children so if you are a mom or dad and are worried about your kids catching something at school, check out The Germinator!
Overall, I really enjoyed this hand sanitizer because it worked great, definitely check it out! You won't be disappointed!
Buy It!
Head on over to
BabyGanics' website
and browse their great selection. It's available in scent free or a fresh tangerine scent and can be purchased for $6.99 at stores like Babies R Us or Bed, Bath, and Beyond.