We've been having a pretty difficult winter, right guys? Snow in the south, snow practically every week in the northeast. I don't know about you but I know many people are really getting sick of this weather. Also, it doesn't help that the Groundhog saw his shadow and that means four more weeks of winter. This time of year gets pretty harsh, especially on your skin and
Dial
is here to help you out.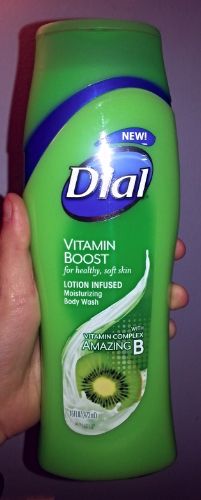 I was sent Dial's latest
Vitamin Boost Body Wash.
Dial's Vitamin Boost Body Washes come in two types: Oil Infused Super C Body Wash and Lotion Infused Amazing B Body Wash. I received the latter which is the perfect body wash for this winter weather.
Harsh, cold wind and snowy weather can leave your skin super dry, fortunately, this body wash combats that. This Vitamin Boost body wash contains Vitamin B (hence the name) and that vitamin is a natural humectant that helps draw in moisture and stay hydrated.
I really enjoyed this body wash because not only did it make my skin feel silky and smooth but it smelled amazing too. This lotion infused body wash smells like kiwi while the oil infused smelled like oranges. I loved kiwi too, I think it's a highly underrated fruit. It also reminded me of a nice little tropical getaway, my shower was a nice little daydream vacation in the midst of winter.
I'm also overall just a big fan of Dial, they make great products that are reasonably priced and well worth it. For instance, I only use about a quarter-size (maybe even a little less) dollop of this body wash on my loofah and that amount is perfect for your entire body. It just shows that this product will last quite a long time.
Once again, Dial does not disappoint they keep creating and improving such great products that you fall in love with. Definitely check them out, you won't be disappointed!
Buy It!
Head on over to
Dial's website
and browse their huge selection.
Win It!
THREE winners will win one free product coupon each for Dial's Volume Boost Body Wash!
a Rafflecopter giveaway