Veggie Grill
is a quick service restaurant that specializes in 100% plant based food. All of their food is primarily vegan and contain no GMO's, meat, dairy, eggs, cholesterol, animal fat, or trans fat. The restaurants are based on the west coast with over twenty locations in Washington, Oregon, and California. Recently, they have updated their meal selection and created a special Mindful Living menu. This menu highlights items that are lower in calories, high in protein, and nutrient dense. I was given the opportunity to visit a Veggie Grill and try the new menu out.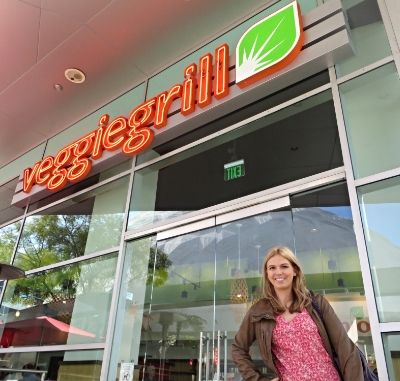 I went to the Veggie Grill at the Hollywood Cinema Dome location where I was greeted by the general manager Jose. We both decided on some meals for me to try out from the Mindful Living Menu to try out.
First up, the Bombay Bowl which is one of the most popular items on the menu. It is actually one of the newer meals and added for the Mindful Living menu. The Bombay bowl contains mushrooms, cauliflower, carrots, zucchini, almonds, cannellini beans, topped with hemp seeds and their cilantro curry sauce. It is gluten friendly, packed with Omega 3's and Omega 6's, and contains 17 grams of protein. I enjoyed this bowl because the curry sauce gave it a slight spicy kick to it without making it too spicy or hot. It's also really filling. I didn't finish any of these meals while I was there because I had to try a little bit of everything, but I did have the rest of this bowl later on in the day for an early dinner and it kept me content and filled me up for the rest of the night. Also, don't be hesitant because it's a "bowl" the portions are actually quite large. You probably can get full from this and have some leftovers for later, too.
Next up is the Quinoa Power Salad which is another new item for the Mindful Living menu. Jose and I originally decided upon four meals but then he surprised me with this one, too. I am glad he did because it ended up becoming one of my favorites out of them all. I am a huge salad person especially fully loaded ones and this one definitely fit the bill. I consider it a cold version of the Bombay Bowl because it had some of the same ingredients and are pretty much the same size so you are getting quite a bit. The Quinoa Power Salad contains red onions, avocado, cannellini beans, almonds, mini dried currants, all on top of a bed of kale and romaine and topped with quinoa, hemp seeds, and their citrus dressing. It is an excellent source of iron, potassium, magnesium, and vitamin B6. It is also gluten free and contains 15 grams of protein. Honestly, when I go back to Veggie Grill (because I definitely am) I plan on getting this guy again. It was refreshing, packed full of flavor, filled you up, but didn't leave you bloated. I loved the wide variety of items mixed in and how they complimented everyone really well. I mean mini currants, avocado and beans going together in harmony? Who knew?
I had heard through the grapevine that their chickin' was really delicious and wanted to try it so Jose suggested I try their Chickin' Tacos with an Avocado and Tomato salad. It contained three white corn tortillas filled with chickin', cabbage, and roasted corn salsa. As a girl who could probably eat Mexican food every day for the rest of her life, these were pretty darn good. The chickin' is actually made from organic soybeans, wheat, and peas. The tomato and avocado salad I liked adding to the inside of the tacos because it made them that much more yummy. That and a touch of hot sauce and I was in love with these guys. These tacos also contain 25 grams of protein. If you love tacos it'll be hard not to love these.
Jose also said that at Veggie Grill they specialize in many kale-based meals. They actually serve kale in three different ways: steamed, raw, and marinated (four if you count the two different marinades they use on the kale). He mentioned many of the kale meals were becoming hot items especially their American Stack Kale Style with a side of Cauli-Mash. The Mindful Living menu gives you healthier, more protein-packed alternatives to some Veggie Grill favorites and this is the perfect example of that. The All-American Stack is a hot sandwich on a wheat bun filled with grilled veggie steak, pickles, lettuce, tomato, crispy onion rings, and topped with thousand island dressing. The American Stack with Kale is just that except instead of a bun the veggie steak is served on a bed of Kale with the thousand island dressing and additional items on the side. Because of the kale, this meal is high in beta carotene, Vitamin C, and Vitamin K. It also has a whopping 33 grams of protein. Honestly, this is a meal if I had come into Veggie Grill with no knowledge I would probably never order. I am vegetarian but veggie steak on kale doesn't seem too appealing to me but I am glad Jose chose it because it was really delicious. The veggie steak was super flavorful, I thought it was marinated with something but it is only topped with relish. The cauli-mash that is comes with is equally amazing. It is 30% cauliflower and 70% mashed potatoes and is one of their most popular sides. In fact, a customer came up to me and commented on how great they are. Once again, I was very surprised by this meal and ended up enjoying it quite a bit.
The Chill Out Wings with BBQ sauce are a staple at Veggie Grill. Jose said that vegetarians and carnivores alike love these wings. As a vegetarian who is always on the search for the veggie alternative to buffalo wings I was very excited to finally end the search here. They are delicious. They also taste like they have the same type of BBQ sauce on them as the meat originals and they are boneless so that means they are less messy! They are also fried in Rice Bran Oil which is one of the healthiest oils. The wings also contain vitamin E and have 32 grams of protein. While I definitely recommend ordering these guys they are not a full meal, so get a side salad or mac-n-cheese with them, too!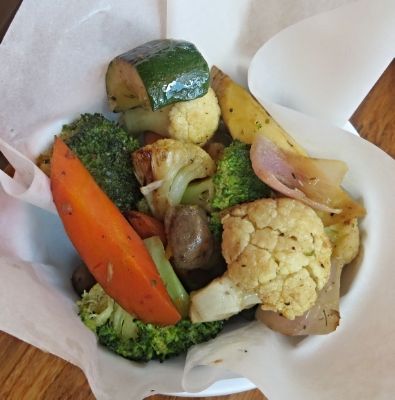 Jose also gave me a side of seasonal veggies just to show what they included and they were very tasty, too. This time of year the veggie mix included parsnips, butternut squash, cauliflower, zucchini, broccoli, carrots, and onions. They were nicely sized too and tasted fresh.
I had never been to a Veggie Grill before and now I am so happy that I had the chance to because everything was just so great and delicious. But if you don't believe me, I also asked some customers as well. One woman actually came up to me and asked if all the food I was eating was for me because if it was she was "going to start a reality show about me." Once I explained to her that I was doing a review she was more than happy to say how big of a fan she was for Veggie Grill. "I love it," she said, "I eat here all day, everyday." Some of her favorite dishes include the fish tacos, buffalo wings, and the cauli-mash.
As you probably guessed, the general manager, Jose, even said he loved it too which considering he works there is no surprise. What is a surprise is that he came from working at Five Guys and there he said he felt bad when people wanted healthy alternatives because there weren't many if any there. But at Veggie Grill all the food is healthy and taste great, too. He is also a meat-eater but still loves all of the Veggie Grill.
One customer did have something a little negative to say he felt that Veggie Grill was "a little expensive," but then he went on to say that "I guess it is worth it for what you get here." It definitely is. I feel like for the Los Angeles food price standards Veggie Grill is really reasonable. For instance, the Bombay Bowl and the Quinoa Power Salad are both $8.45 and for those ingredients and that amount of food it is definitely worth it. I felt the prices were very similar to the other casual dining restaurants like Panera and Poquito Mas.
Overall, I definitely have become a fan of Veggie Grill. Their food is very good and it is as if you can taste the care and freshness they put into making these meals. All of their marinades are made in house, people actually come in at 7AM to prepare. I definitely cannot recommend Veggie Grill enough. Whether you are a meat-eater, vegetarian, or vegan you will find something delicious here.
Eat It!
Head on over to
Veggie Grill's website
to see the closest Veggie Grill location near you. You can also download their app where you can redeem points and earn prizes like a free pick a pair from the menu. You can also sign up for the Grill Club newsletter on their website where you get a free entrée on your birthday.
Win It!
FIVE winners will receive a free entrée coupon to any Veggie Grill.
a Rafflecopter giveaway