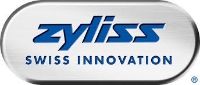 You know you are growing up get excited for easy kitchen gadgets. When I was given the opportunity to review a food chopper by
Zyliss
I was really pumped. I've been wanting one for quite some time now but honestly just kept forgetting to get one and instead kept spending my money on traveling...so I guess I'm not completely grown up yet.
Zyliss sent me their classic food chopper which is great and incredibly easy to use.
There aren't any wires or batteries needed for this food chopper, just your elbow grease. You put the item you want to chop up in the bottom container. I ended up using the food chopper for onions. I had to cut up the onions into quarters so it could fit in the bottom container. Then, I re-attached the bottom container to the chopper and push down on the top part which then makes the blades lower, too. As you push down each time the blades rotate and thus it chops the food into smaller pieces. It took only a few pushes for the onions to be chopped.
It is really easy to clean, too. You can separate the bottom container and them even remove the bottom of the container so no extra pieces get stuck in the corners or the bottom or anything. It also has a blade protector that prevents any food from sticking to the blades. The best part of the cleaning process is that the entire food chopper is dishwasher safe so you don't have to do anything but put it in the dishwasher, yay.
Honestly, this food chopper is extremely simple and easy to use. It is very basic because it is all you and your elbow grease powering the chopping. That said, the chopper does work pretty well. Plus for only $13.99 you really can't go wrong.
Overall, I was very impressed with this chopper, it worked great. Zyliss overall is a great company with a variety of kitchen gadgets and tools that are very well priced. Definitely check them out, browse their variety because they have nearly everything.

Buy It! Head on over to Zyliss' website and browse their great selection!