One of the main items we all carry with us these days are our cell phones. It goes: money, ID, keys, and phone, those are the necessities right? But sometimes when you are away all day that cell phone battery life dwindles and dwindles. What do you do when you are nowhere near an outlet or you forget your charger? Well, here's an easy solution: check out RavPower's power banks!
These power banks are portable chargers for your phone, iPad, and other mobile devices. They are incredibly easy to use and compact so they can easily fit in your purse or pocket, too!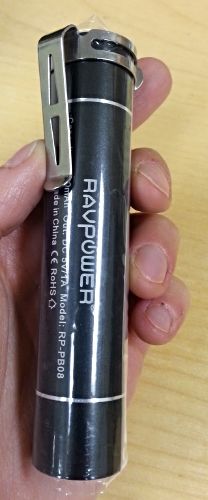 I received the Luster Series Power Bank in black.
You first charge up the power bank. The box comes with a USB cable that you can plug into a computer or an AC adapter if you have it (usually if you have an iPad/iPod it comes with it, it's the square guy). They recommend charging the AC adapter way because It charges quicker than the computer. I used the computer route and I think I had it charged for two hours and it was still a red light so I believe it was still charging.
Once the power bank is charged you do the switcheroo with the cable and plug the USB part into the power bank and the smaller end into the cell phone. If you want to charge your apple device (iPad/iPod) you can use the cable that that device came with.
Like I said, it is incredibly easy and a really handy item. This is perfect for when you attend an all day event, music festival, or are traveling. I know I definitely plan on using this a lot especially in the summertime when I go on more day trips.
An added bonus to this really excellent charger is that it is a flashlight, too! It has a dim light, a bright light, and one that flashes rapidly. Honestly, it would make a pretty great bike light. It does come with a clip, similar to ones on pens, but I don't think that that will securely stay on the bike with just that. The clip is mainly for your pocket inside your purse so you don't lose it.
Overall thought I did really like this because it is a really handy tool and perfect for traveling and on the go. It works with most mobile phones, too. Definitely check it out, you won't be disappointed!
Buy It!
Head on over to
RAVPower's website
and browse their great selection!