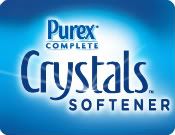 Spring is here, the promise of fresh starts, sun is shining, flowers are in bloom, it is all wonderful. Well now you can have that wonderful spring scent in your laundry, too! Purex is back with their Crystals in a new limited edition scent called Fabulously Fresh.
Purex Crystals are a great laundry enhancer that bring a fresh sensation to your laundry experience. This limited edition bottle and scent will add a colorful escape to your laundry day. Some other great bonuses with these Crystals is that the clothes smell fabulously fresh for weeks not just days, it does not reduce the absorbency of towels, and it is safe for all types of loads of laundry including children's sleepwear and athletic wear.
I love these Crystals. I have used them before and you can check out previous reviews here. I think this one is by far my favorite scent so far. It smells so great, very refreshing and just a perfect spring scent. It smells like flowers but not an overwhelming floral scent. I like using the crystals not only for clothing but also towels and sheets too just so everything can have that amazing scent.
Purex once again does not disappoint, they're products make your laundry look and feel great for a reasonable price. Money is tight guys, why spend a lot of money on those crazy expensive detergents when Purex does the same work but you don't break your bank. Definitely check them out, you won't be disappointed!
Buy It!
Head on over to
Purex's website
and browse their awesome selection!
Win It!
THREE winners will receive a free product coupon each for Purex Crystals!
a Rafflecopter giveaway