Hey guys! So my next review and giveaway is for
Sweets Perfume
. Sweets Perfume is this really cool website that has tons and tons of different fragrances of perfumes literally for every smell in the world. Well good smell, they don't have bad smelling ones because who would buy them? Haha, I received a sample of ten different ones in the mail. Like an idiot though I chose "Strawberries and Champagne" twice, but that's okay nine is still a pretty sweet amount of samples of perfume to get too.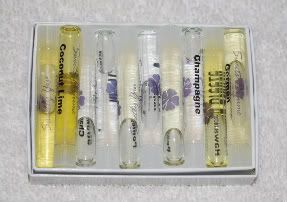 Here's the fragrances I chose:
1. Strawberries and Champagne
2. Black Raspberry Vanilla
3. German Chocolate Cake
4. Vanilla Cider
5. Pomegranate
6. Peaches n Cream
7. Green Tea & Cucumber
8. Coconut Lime Verbena
9. Hawaiian Breeze

Wow, all of these smelled amazing. I just wanted my nose to live in a bottle of German Chocolate cake for the rest of my life. The others smelled fantastic too but I love chocolate and anything that smells like chocolate so when I had the chance to have me smell like chocolate, hell yeah I'm jumping on that.
See I'm the type of person that's not a big flowerly smelling fan. I mean I like flowers but for instance my favorite flower is a hyacinth I'm not a big roses or even lavender fan. I mean yeah I do like them and lavender candles are just, ahhhh, but it's a very common smell. I'm into fruity smells, as you can probably tell from my list, it's just a nice change of pace. And yeah I did pick vanilla...twice and that is a common smell too but, I contradict myself there because that's one smell no matter how many things smell of vanilla it will never get old to me. Like coconut, coconut's becoming a big smell and I'm all for that because I love coconut.
But yeah, I also don't like flowery perfumes because I feel like they're too perfumey. It doesn't smell exactly like the flowers, you know? Of course this didn't exactly smell like Pomegranate but it was too fake? It smelled just enough like the actual fruit. The one I felt was too kind of perfumey was Peaches n Cream, I was kind of disappointed with that one because it wasn't much cream just a lot of overly perfumed peach. And Hawaiian breeze smelled too much like Hawaiian Punch for my liking, but that's what I get for picking Hawaiian Breeze. But you know what? 7 out of 9 ain't bad at all. The rest smelled fantastic.
Also the scents weren't too overwhemling, if that makes sense. They were just enough to smell great but not like you bathed in perfume or Green Tea and Cucumbers for that matter, haha.
My favorites were of course German Chocolate Cake, but also Coconut Lime Verbena and Green Tea & Cucumber. But they all, for the most part aside from the 2 I wasn't a fan of, were great. They smelled like what they were supposed to smell like and that's how it really should be.
All in all, you guys should definitely try Sweets Perfume out. They have almost 50 scents to choose from (49 to be exact) and it might take you a while to pick out one scent because they have such a great selection, but trust me it is so worth it.
Buy It!
Head on over to
Sweets Perfume's website
and browse their awesome selection. Their prices vary from $3.95 to $49.95 depending on how fancy the bottle you want. :)
Disclaimer-
I was provided a product in exchange for my review.
You can read more about my blog policies in my disclaimer.