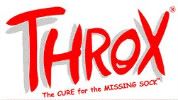 Hey guys! So my next review is for Throx! Once you hear what Throx are you're going to go "ohhhh" because their name is just so clever! Throx are sox but instead of having just two in the set it has three so in case you lose one in the laundry or someone moves your laundry because you are two minutes late after your laundry time (dorm life). They give you an extra one in case. I received the Peppermints ones in the mail.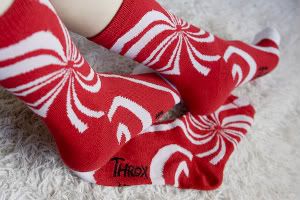 I thought the entire idea of these socks were cool because I'm a college student I've dormed. Just this past fall I studied abroad in London and you had to be like 5 minutes early and wait until your laundry was done or else someone moved it and you would lose or even gain a sock. It was really, really annoying. And all college students have to deal with it, I had to deal with it when I dormed in Chicago too. It annoys the hell out of us. Especially if it's a nice sock too, like the really warm winter ones.
These were really comfy too. I was really worried because on the website it says one size fits all and sometimes when socks and such say that it's not always true. But these socks fit perfectly. They also weren't took thick or too thin, perfect for the spring weather that we're now having. They also have a lot of crazy, cool styles and designs on them.
As the website says:
"How clever is THROX? Readers' Digest Magazine in its prestigious "Best In America" issue gave it its "Best Innovation" award. Its inventor, Edwin Heaven, recently appeared on CNBC's The Big Idea with Donny Deutsch. And Brandweek Magazine, the marketing industry's bible, awarded THROX this year's "Best Solution." Considering that every washer/dryer has either a sock monster or some kind of Bermuda Triangle, three-socked THROX is one hell of a solution."
All in all, these Throx were really cool and fun. I haven't washed them yet but they seem durable enough, not thin and won't mess up in the laundry easily.