Hey guys! So my next review and giveaway is for the book
The Swimming Pool by Holly LeCraw
. On Amazon the book's description from Publishers Weekly is:
"Strong writing keeps the reader sucked in to LeCraw's painful family drama debut. The lovely Marcella is reeling from tragedy; her ex-husband, Anthony, has sent Toni, their only daughter, away to boarding school and on to college. The man with whom Marcella had an affair, Cecil McClatchey, dies in a car accident soon after his wife, Betsy, is murdered. Amid the wreckage is Cecil's daughter, Callie, fighting for her sanity with two young children, and his son, Jed, who, desperate to fill the void left by the death of his parents, seeks answers from Marcella only to begin a tortured love affair with her as she drowns in guilt, struggling to find some meaning to hold on to. As Marcella comes closer to the truth about Betsy's murder and Cecil's death, and mindful that she is now the lover of Cecil's son, she struggles and fails to gather strength enough to make any decision, right or wrong. It is a story of deep and searing love, between siblings and lovers, but most powerfully, between parents and their children."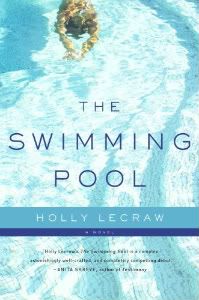 To be honest I kind of had mixed emotions about this book. I'm not into romances that much and this was more romance then trying to find out the truth about Betsy's murder and Cecil's death. This is kind of a spoiler but only towards the end do they really confront what happens to Betsy. Most of the book is about Marcella having a secret tryst with Jed who is her former lover's (Cecil's) son. I didn't really connect to the story. I just wasn't able to connect with the main characters. I felt bad for a lot of the minor characters because of what the main characters kind of did to them. It was kind of depressing.
But if you're into juicy secret romances then hey you'll probably like this. I feel like it was kind of Nicholas Spark's-y I haven't read his books but I've seen some of his movies (the only one I liked was A Walk to Remember) and yeah it was kind of a sad romance like those films and books. So if you like Nicholas Sparks then you will most likely enjoy this.
Honestly I thought the story was going to be more focused on the deaths of Cecil and Betsy and though we do see how these deaths affected the characters, it's mostly about the romance between Marcella and Jed.
Though the writing style was done very well. This was Holly LeCraw's debut novel and I applaud her because her descriptions of how the characters felt and everything was great. It wasn't overdone or not enough, it was just right. It's not that I don't think LeCraw is a good writer, I think she is, it was just the storyline that put me off. I'd like to read something of hers in the future that isn't so much filled with romance and a kind of depressing romance at that.
All in all, I do think that this was a very good debut novel for LeCraw because it isn't just your average romance it's about loss and how love can help your feeling of loss. It just wasn't my favorite book, but again I don't read many romances my favorite books are Harry Potter, Live from New York, and Survivor by Chuch Palahniuk. So don't judge this book by my review, if you like intriguing romances I'm sure you will love this.
Buy It!
The Swimming Pool
is located on
Amazon
as well as Border's and Barnes and Nobel's websites. You can also check out your local book store or Barnes and Nobel or Borders in person and not online.
Win It!
TWO winners will receive a copy of
The Swimming Pool by Holly LeCraw
.
1. Comment telling me your favorite book.
Please answer this question or else your comment will not count! You must do this first or future entries will not be counted.
(1 entry)
BONUS ENTRIES
2. Subscribe by Email and Confirm that Subscription (1 entry)
3. Follow StarIMPULSE on Blogger. (2 entries!)
4. Follow me on Twitter. (1 entry)
5. Tweet about this giveaway and send me a direct link to that tweet, you can do this once a day. (1 entry per day)
6. Subscribe to my YouTube channel. (1 entry per day)
7. Add my StarIMPULSE button to your sidebar and send me think link to your blog so I can see it. (1 entry)
8. Add StarIMPULSE to your blogroll (using my URL), with a link back to me! (1 entry)
ONE winner will be chosen on May 9th, 2010 at 9:30pm (EST) and then will be emailed.
Alternate winners will be chosen if winner does not respond after 48 hours. This contest is only open to all US Residents. Thank you and good luck!
Disclaimer-
I was provided a product in exchange for my review.
You can read more about my blog policies in my disclaimer.