Hey guys! My next review is for
TruWhip
! TruWhip is like the healthy version of CoolWhip.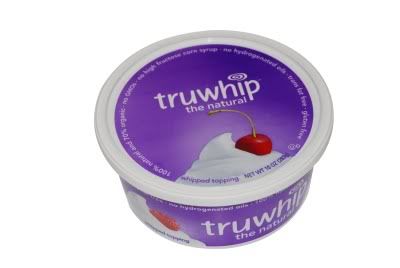 TruWhip contains no artificial flavors. It's all natural, which I think is awesome especially for a whipped cream type topping. Typically they're anything BUT healthy for you. They sent me a little page with some informative facts that might be interesting to you guys:
"TruWhip is the only all-natural whipped topping with no trans-fat in the whole bowl. TruWhip has no hydrogenated oils, no high fructose corn syrup, and no GMO's (genetically modified organisms) -- and it's gluten free. Two tablespoons of TruWhip is only 30 calories compared to 100 calories in the same amount of whipping cream!"
Only 30 calories??? Crazy awesome! It's made with 70% organic ingredients too!
Originally I was going to make a banana cream pie with this but for some strange reason my dad ate about 3/4 of the container, just ate it like ice cream, so instead I ate the rest with some yummy strawberries.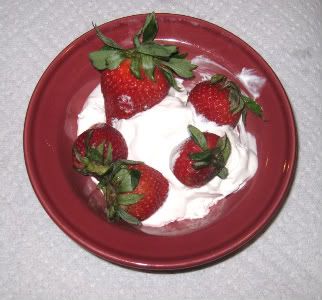 And this TruWhip was soooo good! It wasn't as sugary sweet as CoolWhip which kind of made it taste better because I was eating it with strawberries and you don't want things crazy sweet. But it's not like there was a huge taste difference either. I'm not going to lie I was kind of worried tasting a healthy version of whipped cream -- sometimes bad stuff like junk food tastes good because it's bad, you know? And the healthy alternatives can't replace them. But that's not the case with TruWhip, I will definitely start buying TruWhip instead of CoolWhip now. Mainly because do you really want a topping that sugary for the price? The price being more than tripled the calories! It's totally not worth it to me, TruWhip kind of tasted better than CoolWhip and is actually better overall because it's healthy for you!
Also, you know TruWhip is good when my dad likes it. My dad is not used to change and "healthy alternatives." We tried eating at this restaurant called Veggie Heaven once because I'm a vegetarian and he said it tasted like cardboard. He drinks soda always instead of juice and milk. For him to engorge himself in TruWhip is saying something about just how delicious and how similar tasting it is to actual CoolWhip. So even if you're wary about this lighter/healthier products, give TruWhip a shot, you won't be disappointed!
TruWhip was also generous to give me a coupon to purchase my own TruWhip and I definitely will and when I do, I am making that banana cream pie! I'll make it fast so my dad can't attack it.
Buy It!
Head on over to
TruWhip's Store Finder page
to see what stores near you sell this awesome topping. Near me they sell it at Stop and Shop and Whole Foods. And its
retail price ranges from $2.39 to $3.99 -- definitely not bad at all!
Disclaimer-
I was provided a product in exchange for my review.
You can read more about my blog policies in my disclaimer.