Hey guys! So my next review and giveaway is for
Carolina Pad's
special Summer Promotion "TXT Me this Summer" which includes notebooks, folders, and binders from the
Chat Collection
.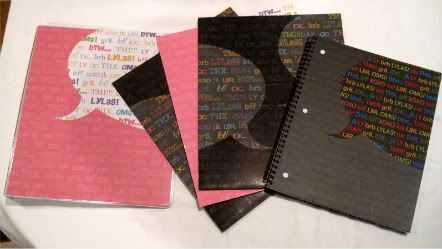 "School's out for the summer! How will your favorite student keep up with friends over the long break? We're willing to bet there will be a lot of texting going on! LOL. LYLAS. L8TR. The perfect parting gift for your BFF or your favorite teacher – the Chat collection from Carolina Pad! These high-quality binders, notebooks and folders are cleverly designed with iconic texting words and symbols. Buy the bundle today and save – 1 binder, 1 notebook and 3 folders for only $10!"
This is a really great collection, very hip to what's trendy nowadays, you know? Texting is a very common way to keep in touch with friends over the summer during break so it was a clever idea to create an entire office and organization products collection revolving around texting. It's also cool because it's great for students of all ages. The design isn't too childish for teenagers and it isn't too adult for younger preteens. Heck I'm 22 and I like the style of it. Not a big fan of the pink one, mainly because I'm not a pink fan, but I do like the black design.
I also like how these products are made. The notebook for example has a very strudy cover and will definitely last you a while unlike many notebooks nowadays which have flimsy covers that, at least for me, rip off easily. The front cover matches the feeling and thickness of the back cover, which I like, again unlike most notebooks which have flimsy front covers and just plain cardboard back covers.
The binder and folders are nice too. I like how the folders the sleeve is horizontal not vertical because a lot of times the vertical sleeves don't fit certain papers. The binder is great too because it's not too big but not too small.
Overall this collection is really cool and great for girls of all ages. Hey moms! This is a great little present to give to your daughters for a summer present. Maybe they can take their friends' emails and phone numbers down into this notebook. Or keep their letters from their friends in the folders. Stuff like this can be useful for practically anything for young students.
Buy It!
Head on over to
Carolina Pad's website
and browse their selection they have more collections than just the chat one too. They've got ones featuring animals, ones for Road trips, and much much more! Check them out!
Win It!
ONE winner will receive this Chat collection bundle for themselves (or for their daughter)!
1. Search through the
Carolina Pad website
and comment telling me what collection you'd like to buy next.
Please answer this question or else your comment will not count! You must do this first or future entries will not be counted.
(1 entry)
BONUS ENTRIES
2.
Follow Carolina Pad on Twitter.
(1 entry)
3.
Become a fan of Carolina Pad on Facebook.
(1 entry)
4. Subscribe by Email and Confirm that Subscription (1 entry)
5. Follow StarIMPULSE on Blogger. (2 entries!)
6. Follow me on Twitter. (1 entry)
7. Tweet about this giveaway and send me a direct link to that tweet, you can do this once a day. (1 entry per day)
8. Subscribe to my YouTube channel. (1 entry)
9. Add my StarIMPULSE button to your sidebar and send me think link to your blog so I can see it. (1 entry)
10. Add StarIMPULSE to your blogroll (using my URL), with a link back to me! (1 entry)
ONE winner will be chosen on June 18th, 2010 at 6:00pm (EST) and then will be emailed.
Alternate winners will be chosen if winner does not respond after 48 hours. This contest is only open to all US and Canadian Residents. Thank you and good luck!
Disclaimer-
I was provided a product in exchange for my review.
You can read more about my blog policies in my disclaimer.