Father's Day is fast approaching. Give him something special from the assortment of exquisite
Father's Day Gifts
at Bea's Gift Baskets. You will find gifts for the sports fan, the motorcycle fan, for the avid gardener, the fisherman and the snack eater, anything your guy likes. The baskets are incredible, filled with man munchies.
Okay guys so I was sent the Gone Fishing Gift Set for my Dad for Father's Day.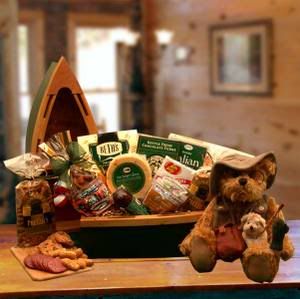 Here's what the website says about this super cute yet still great for a man/dad gift basket:
"This is a gift for the true Fisherman in your life. Contents: Wooden Boat (hangs on the wall and has 2 shelves), "Gone Fishing" Three Cheese snack mix, Beths Chocolate chip cookies, Garlic Sausage, Jelly Belly Best flavors gift box, Honey Mustard pretzels, Nunes smoked almonds, Clay Kettle Fresh Fudge, Hot Pepper Cheese, Mini Bite Size Italian bread sticks, 12" Plush fishing bear with vest and baby bear."
Well I kind of gave my Dad the basket already as an early Father's Day present because I wanted him to try out the goodies and see if he liked them or not to give you guys a good review. Well, he really did like it. He wasn't a big fan of the bear, but I know he can put it up somewhere in his man cave, along with the cute boat it's in. His man cave is a room in te basement that has all his fishing/Viking(the football team)/ironworker/Elton John stuff. He also doesn't like jellybeans so that was the only treat in the basket he didn't like food-wise.
But all the other snacks were really great and the entire presentation of the basket was just lovely. I loved how it had a cute bow on it. One thing that was a pain though how it was all taped together. I understand that's how gift baskets work to make the basket look nice and so you can see everything in the basket. It's just when we went to grab the Three Cheese Snack Mix it ripped at the bottom. But that was the only issue I had with the tape.
The snacks were so good though. My dad attacked the chocolate chip cookies, they were so delicious. I had one myself. What I liked about them is that they weren't really hard like a lot of pre-packed cookies are, they were kind of soft and extremely delicious. The three cheese snack mix was really great too, almost like goldfish but with extra cheese snacks in it too like cheesy pretzels and little sticks. It was one of those snacks you get addicted to though and kind of can't stop eating, also similar to goldfish in the matter.
Everything else was delicious too, but those were my top two favorites. I liked how there was a variety of snacks to from sausage to pretzels to fudge. I kind of wished there was an all-chocolate Father's Day gift basket though because my dad is a diehard chocolate fan. Which is why he loved the cookies and the fudge. He liked the other snacks too but it would've been super awesome if it was all chocolate. But he's the kind of the guy that loves all junk food so he did love the entire gift basket. At least his stomach did.
All in all this is a great gift basket company especially for dads. My dad is so hard to buy a gift for but one way you can give him something he will love is food. Just like all guys, for my dad one way to get to his heart is though his stomach. So he loved this! Definitely check this out because they have a gift basket for any father. From fishermen to golfers to NASCAR fans. Your dad will definitely like at least one of these baskets. And the snacks are delicious!
Need a gift for someone special? Bea's Gift Baskets is the place to purchase gifts throughout the year. You can find birthday gifts, holiday gifts and gifts for every occasion. Browse the wonderful selection to find the perfect gift. The assortment is lovely and the customer service will bring you back. Bea's offers free ground shipping within the Continental US on any basket or gift of $50.00 or more.
Buy It!
Head on over to
Bea's Gift Baskets
and browse their excellent selection.
We are so excited to be featuring Bea's Gift Baskets in our Fantabulous Father's Day Giveaway (June 4-11). It's sponsored by
Bea's Gift Baskets
and hosted on three blogs:
Mommy's Memorandum
,
Star Impulse
and
One2Try
. Visit each blog for more chances to win. Bea's is giving away three baskets, one on each blog! Thanks very much Bea's!
Win It!
Here is your chance to win!

One lucky reader will win here on StarIMPULSE - your choice of Father's Day Gift Basket up to $50.00.
Mandatory Entry (First entry)
Visit
Bea's Gift Baskets
and tell me in a comment which Father's Day Selection you would choose if you won.
--Include your email address (if not public in a profile) so I can contact you if you win.
Additional optional entries:
Eligible after completing mandatory entry above
: You can do any or all of the following for one entry each. Please leave a separate comment for each that you have done.
1. Enter the Bea's Baskets Fantabulous Father's Day Giveaway at
Mommy's Memorandum
. Leave a comment letting me know you entered. (1 entry)
2. Enter the Bea's Baskets Fantabulous Father's Day Giveaway at
One 2 Try
. Leave a comment letting me know you entered. (1 entry)
3. Tweet about this giveaway and send me a direct link to that tweet, you can do this once a day. (1 entry per day)
4. Subscribe by Email and Confirm that Subscription (1 entry)
5. Follow StarIMPULSE on Blogger. (2 entries!)
6. Follow me on Twitter. (1 entry)
7. Subscribe to my YouTube channel. (1 entry)
8. Follow Bea's Gift Baskets on Twitter. (1 entry)
9. Become a fan of Bea's Gift Baskets on Facebook. (1 entry)
10. Add my StarIMPULSE button to your sidebar and send me think link to your blog so I can see it. (1 entry)
11. Add StarIMPULSE to your blogroll (using my URL), with a link back to me! (1 entry)
12. Write a blog post about this giveaway, with a link to my blog. Come back and leave the link to your blog post. Post FIVE separate comments that you've blogged about this. (5 EXTRA entries!)
13. Make any purchase from Bea's Gift Baskets. Post FIVE separate comments about your purchase. Subject to verification. (5 EXTRA entries!)
ONE winner from each of the three blogs will be chosen on June 11th at 8:59 PM Eastern time.
Open to Continental US addresses only. No PO Boxes. If duplicate winners are selected by any of the 3 host blogs, an alternate winner will be randomly selected. Alternate winners will be chosen if winner does not respond after 48 hours.