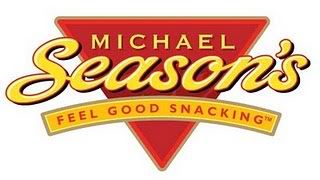 Hey everyone! So my next review and giveaway is for
Michael Season's Snacks!
You may recall that I did a review and giveaway for them about three months ago for their baked puffed and curls snack line which was deeelicious. To read that review
click here.
They contacted me again because they asked if I could do a review for their a new flavor reduced fat thin and crispy chip out called Mediterranean and I was more than happy to do so!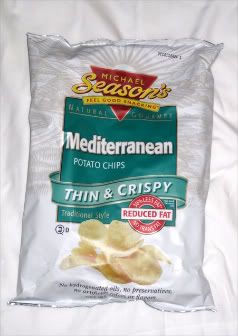 I took this delicious bag of chips to the beach today and nearly ate the entire bag it was so good! As the website says:
"Michael Season's captures the flavors of the Mediterranean! We start with select potatoes and add a combination of garlic, onion, oregano, rosemary & basil."
Oh my gosh, these were just delicious. If you're a big fan of garlic you will love these, not that it's crazy garlicy. It's like the sour cream in sour cream and onion potato chips, you taste it enough to loveee it.
The style and texture of the chip was great too. They weren't super thin like a lot of chips are they were thin but had a thickness to them to make them crispy and crunchy and even more delicious than your average chip.
I felt so guilty attacking these chips because well, they're chips, buttt they're not like you're average chips. They're pretty healthy compared to your average ones. These babies are 30% reduced fat, no trans fats, no MSG, no HMOs, no preservatives, no artificial flavors or colors, and they're all natural! Meaning I could actually read the ingredients in the back and KNOW what they are! Yes!
These chips definitely now are one of my favorite chips and I definitely will buy them again! You guys will love them! Or if the flavor doesn't sound so appealing to you, don't fret! They have other thin and crispy potato chip flavors! Just check them out on the website! Or check out their yummy puffed snacks, I can vouch for them too, they're delicious!
Buy It!
Head on over to
Michael Seasons's website
and click on the Find a Retailer link to see if there's a store near you. Or shop online and browse all their products, they're all delicious!
Win It!
ONE winner will receive a bag of Mediterranean chips, chip clip, and reusable tote bag!
1. Go to
Michael Seasons website
and tell me what snack you'd like to try in the future.
Please answer this question or else your comment will not count! You must do this first or future entries will not be counted.
(1 entry)
BONUS ENTRIES
2. Follow starIMPULSE on blogger. (2 entries!)
3. Subscribe by Email and Confirm that Subscription (1 entry)
4. Follow me on Twitter. (1 entry)
5. Tweet about this giveaway and send me a direct link to that tweet, you can do this once a day. (1 entry per day)
6. Subscribe to my YouTube channel. (1 entry)
7. Add my StarIMPULSE button to your sidebar and send me think link to your blog so I can see it. (1 entry)
8. Add StarIMPULSE to your blogroll (using my URL), with a link back to me! (1 entry)
ONE winner will be chosen on July 22, 2010 at 8:30pm (EST) and then will be emailed.
Alternate winners will be chosen if winner does not respond after 48 hours. This contest is only open to all US Residents. Thank you and good luck!
Disclaimer-
I was provided a product in exchange for my review.
You can read more about my blog policies in my disclaimer.
IF YOU DO NOT CORRECTLY ANSWER MY CONTEST QUESTION, YOUR COMMENT WILL BE IMMEDIATELY REJECTED.